Steven Slate TRIGGER has become the industry standard drum replacement tool and has been used by some of the top mixers in the world to enhance their drum sounds. SLATE DIGITAL's TRIGGER 2.0 is the next generation drum replacement VST/RTAS/AU/AAX plugin.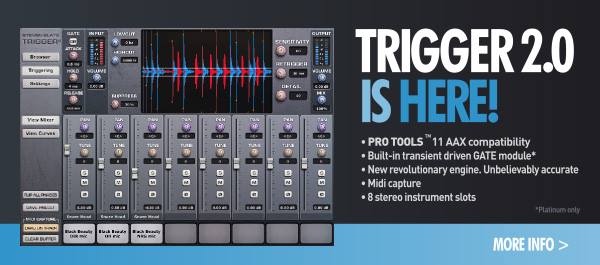 TRIGGER 2.0
This new version continues the tradition of this amazing drum replacement technology and adds even more functionality such as an even more foolproof replacement engine, 2 more slots for a total of 8 sample slots. a completely redesigned GUI, a new browser with audition, completely automatable parameters, linking curves, and a world class transient driven noise gate on the Platinum Edition! And of course, TRIGGER 2.0 is full 64bit Mac/PC and AAX 64bit for Pro Tools 11! TRIGGER users, your update is available in your account and you can download it for FREE!
TRIGGER comes stock with a library of the industry standard STEVEN SLATE DRUMS drum samples. Elite mixers such as Chris Lord Alge, Mike Shipley, Dave Way, Jeff Juliano, Jay Baumgardner, Ben Grosse, David Kahn, and many more top names have relied on STEVEN SLATE DRUMS to help enhance the drum sounds in their mixes for years. All the samples in STEVEN SLATE DRUMS are recorded to 2 inch tape and processed with the finest in vintage and modern analog gear. STEVEN SLATE DRUMS include three sample layers including stereo room mic samples from the famous NRG RECORDING in North Hollywood, California.
Features
Extremely accurate drum replacement
Leakage suppression
Transient driven Gate
Eight stereo layers of samples
Converts audio to Midi
Comes with Steven Slate Classic Platinum samples
Mac: AU 32/64, VST 32/64, AAX 32/64, RTAS
PC: VST 32/64, AAX 32/64, RTAS
//