Blue Cat Audio has released Blue Cat's PatchWork, a new plug-in that can be described as a "universal plug-ins patchbay": It can host up to 64 VST plug-ins into any Digital Audio Workstation (DAW).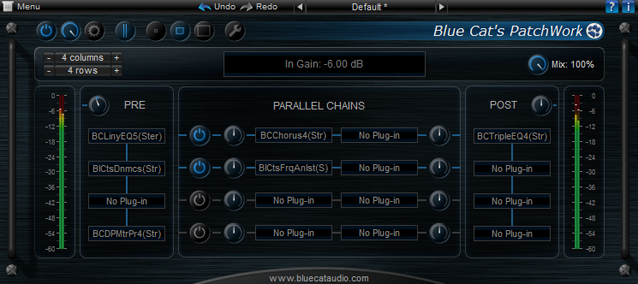 Patchwork – Virtual Patchbay
It is possible to chain effects in series or create up to 8 parallel chains that can be activated independently, and create many effects or instruments configurations within the plug-in, without the need for multiple busses. These configurations can be saved as presets and recalled instantly, or shared with multiple DAWs, using any plug-in format. Despite the plug-in's name, no wiring or cabling is required: configuring plug-ins routing is as simple as adding or removing a row or a column in the rack's matrix.
For each plug-in slot, latency compensation, presets management, undo/redo integration, and individual plug-in bypass are included for optimal operation. The plug-in also stores the position of the window for each plug-in so that the layout is restored with the session or saved with presets.
The plug-in is available alone or as part of the Blue Cat's All Plug-ins Pack, the complete Blue Cat Audio collection bundle.
A special introduction price (20% off the plug-in) is offered to new customers until December 31st, while existing Blue Cat Audio customers can purchase the plug-in with 40% discount. Demo versions are available for download on www.bluecataudio.com, in VST, RTAS, AAX, Audio Unit and DirectX formats, for both Mac and PC (32 and 64-bit).
Main Features
– Configurable VST plug-ins rack: host up to 64 third party plug-ins or instruments in series or parallel.
– Available as an effect or virtual instrument.
– Build your own effects chains: up to 8 "pre" and "post" plug-ins slots to chain plug-ins in series.
– Parallel processing made easy: up to 8 parallel plug-ins chains.
– Host up to 8 virtual instruments in parallel and mix them within the plug-in.
– Global Dry/Wet control ("Mix").
– Copy and paste plug-ins with their settings between slots.
– Recall complex processing setups and plug-ins layouts with one click and share them between your DAWs.
– Input and output levels monitoring.
– Plug-ins Latency compensation.
– Integrated undo/redo.
– Fully configurable user interface, with multiple sizes.
System requirements:
– Intel Mac running Mac OS 10.5 or newer.
– PC running Windows XP or newer.
Pricing: Blue Cat's PatchWork: 47 EUR or $63 (instead of 59 EUR or $79), until December 31st.