Well, look at that! After the post on the Korg littleBits Synth Kit we got a heads-up from one of our followers on a similar project/product, Patchblocks. Another little DIY modular synth en processing system kit. With this you could create your own modular synthesiser by programming Patchblocks with their software editor. Could, because at the moment this is still a project on Kickstarter!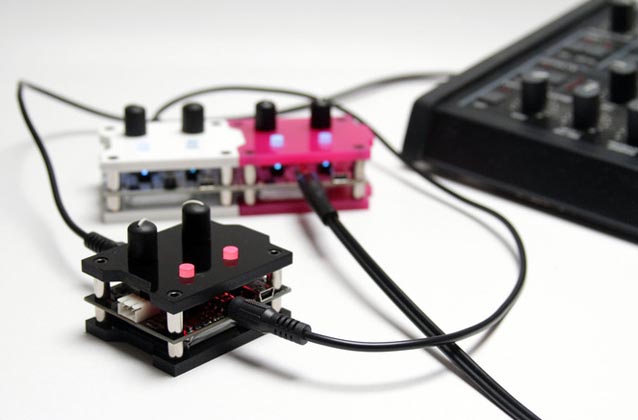 Patchblocks – How does it work?
All you need is a Patchblock, a Mac or Windows PC and our free software. The software allows you to program your module the way you want. This is done in a so called "visual programming language", or in other words, you don't have to go into 100% geek mode and write code to make it happen. Visual programming is easy. You choose from a variety of low level sound processing elements and combine their functions by connecting them with virtual cables – a bit like a modular synthesiser, but in software. Your repertoire of virtual modules include various oscillators, filters, delays, and even modules for algorithmic composition.
The software editor lets you emulate how your "patch" would sound, and once you're happy with it you can upload it to your Patchblock. This is done by simply connecting it per USB. Once programmed, you can unplug it and jam away. Patchblocks are small and battery powered, so you can put them in your pocket and rock with them wherever you want.

Patchblocks feature
stereo audio input
stereo audio output
2 channel digital input
2 channel digital output
2 assignable knobs
2 assignable illuminated buttons
tough 5mm machined acrylic enclosure panels
USB chargeable LiPo battery
10bit / 20K sampling rate audio – it sounds fatter than you expect!
For (lots) more information check the Patchblocks Kickstarter project page.

Use code GEAR20 for a 20% Discount at checkout!