Producer, engineer and mixer James Loughrey tells sE Electronics about recording Skindred and My Vitriol's upcoming albums using an sE Voodoo VR2, Gemini II, an RF PRO, a pair of sE Rupert Neve RN17's and a Rupert Neve Designs 517.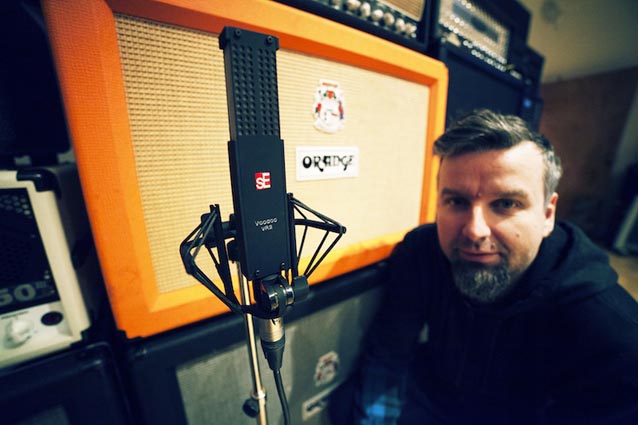 James Loughrey
Originally from South Africa, moved to London to progress his career as a mixer, producer and engineer where he went on to make a name for himself whilst working with some of the most recognised bands and artists in the business.
James begins by talking about his studio set up and how he decided to use sE microphones to record other applications, I am using the Voodoo VR2's; I use them to record heavy guitars as they give an amazing amount of bottom end. I also use them for percussion and anything else that is 'roomy', James explains.
James continues, explaining his techniques for using his sE mic of choice – the Voodoo VR2: "When miking a 4×12 cab, I use the sE Voodoo VR2 directly onto the cones and phase align them which results in the VR2 giving me warmth." He continues, If you place the Voodoo VR2 at a 30 degree angle on the cone it helps with the high transients. They are really useful high gain ribbons – I've used the Royer R121 and the VR2 comes out tops against it!
One of James' recent projects in which he used the Voodoo VR2, a Gemini II, a Reflexion Filter Pro and a Rupert Neve Designs Portico 517 includes the second album from My Vitriol, due to release in 2014. The band rekindled their musical career earlier this year, performing for the first time in almost four years in May at KOKO in London.
James has also been using the sE Voodoo VR2 and a pair of sE Rupert Neve RN17's whilst working on Skindred's most recent album 'Kill The Power' which is also scheduled to be released in 2014. "I have used sE mics to record the latest Skindred album – the guitars wouldn't be the same without them!, says James, The Voodoo VR2's will definitely be used again, I don't want to record guitars again without them. It's great the VR2's come with a cradle as they don't always with other companies, and I love the wooden box as well!, he continues. I've used various sE microphones and I strongly believe they are well made products that you can take into ANY recording environment."