Well here it is, the official statement by Elektron on their new machine, the Analog Keys synthesizer. The Analog Keys is a four voice flagship analog synthesizer, conceived with the modern artist in mind. Fully analog signal path, digital controls, and unprecedented playability make it an instrument for the expressive musician.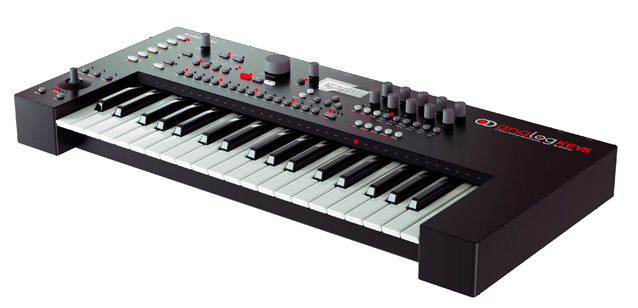 Premium analog synthesizer
The Analog Keys is a four voice polyphonic analog synthesizer, capable of generating the finest basslines, chords, leads, and sounds imaginable. The warm and deep tone represents the pinnacle of analog synthesis and the acclaimed Elektron sequencer stands ready to arrange and warp the analog sounds in real-time. Complete the experience by treating the four voices with incredibly well-crafted master effects. A new world of sounds awaits.
Performance optimized
The Analog Keys is tailor-made for the stage. The 37 semi-weighted keys of the keyboard give instant fingertip control of the analog tones. The special performance mode offers direct access to user-defined parameters, and the joystick, capable of controlling up to fifteen parameters, allows for extreme morphing of sounds. Improvising when playing live has never been this easy.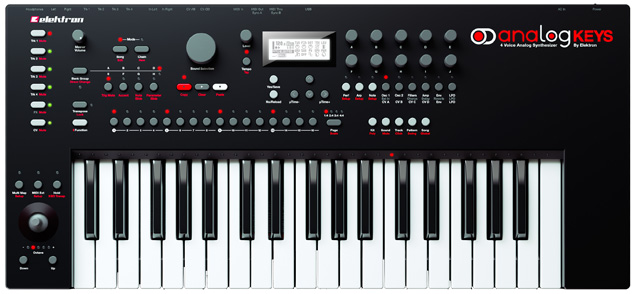 Heart of the rig
Compatibility with other instruments is well catered for. Simply press a button to transform the Analog Keys into a MIDI keyboard, ready to control external MIDI gear. Thanks to the dedicated CV sequencer and the CV/Gate and DIN sync outputs, analog instruments of both today and yesteryear can be played, sequenced, and controlled with precision. Use the multitude of control options to breathe new life in vintage and modern rigs alike.
Highlights
*100% analog signal path
*Four voices, each with 2 analog oscillators, 2 sub-oscillators, dual analog filters, analog overdrive per voice
*37 key semi-weighted keyboard with aftertouch
*+Drive storage hosting up to 4096 Sounds (+Drive Sound Library)
*Elektron sequencer with CV/Gate sequencing
*Parameter assignable joystick
*Extensive modulation possibilities
*Supervoid Reverb, Saturator Delay, Wideshift Chorus send FX
*Polyphonic, multitimbral, unison modes
*Dedicated MIDI controller mode
*1x headphones output, 2X main outputs, 4x stereo separate track outputs
*2x audio inputs
*MIDI IN/OUT/THRU with Din sync out
*2x dual CV/Gate outputs
*USB 2.0 port
The Analog Keys goes on sale December 5. Shipping starts Dec 9. List price: 1849$/1749?/1449£