Word from our friends from Germany, as they announce a major update for RAZOR. This innovative, highly popular additive synthesizer designed for tense basses, bristling leads and shifting, sci-fi soundscapes has been updated to version 1.5. This update adds significant new sounds and effects to the cutting edge instrument along with a new macro system for unparalleled integration with MASCHINE 2.0. The update is free for current owners while new customers can purchase RAZOR 1.5 for half price until December 9th, 2013.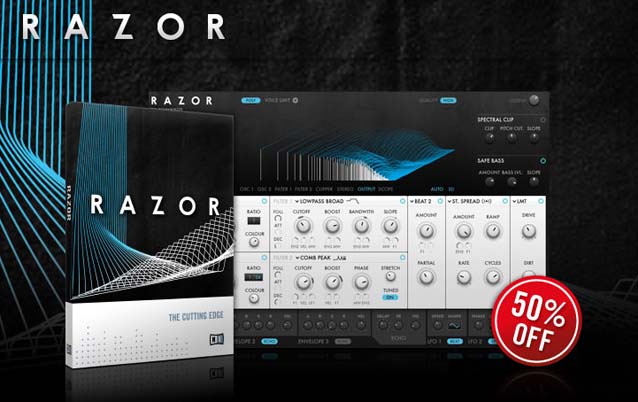 Additive Synthesis
With RAZOR 1.5, 12 new modules add increased sonic flavour. Eight different dissonance modules range from frequency modulation to metallic frequency stretching and pitch manipulation. A new multimode filter offers unusual shapes for irregular filtering and adventurous sound design. Two stereo effects, a dynamics effect, and one distortion module also allow for a wealth of sonic possibilities. As the creative engine behind RAZOR, maverick Berlin producer Errorsmith once again leaves his signature, expanding the dynamic and precise RAZOR sound.
RAZOR 1.5 also features seamless integration with the new MASCHINE 2.0 software. A new compact performance view condenses essential preset parameters into a focused window and maps key parameters directly to the eight MASCHINE control knobs. Multiple parameters are easily assignable to each macro control knob offering a wealth of intuitive workflow enhancements. What's more, over 100 additional presets take full advantage of these macros.
Existing users of RAZOR can download the update for free from the Service Center. New customers can take advantage of a limited time sales special to get RAZOR for 50% of the standard price. The offer lasts until December 9, 2013 and is available at the NI Online Shop.
This special offer is valid from November 21, 2013 until December 9, 2013, at the NI Online Shop for $49.50 / 49,50 € / ¥ 4 900.
Additional information on RAZOR is available at: www.native-instruments.com/razor