Rob Papen Soundware is proud to announce availability of Punch 1.0.4, the much-anticipated latest update to its award- winning drum synthesis/sampler software instrument for Mac and PC.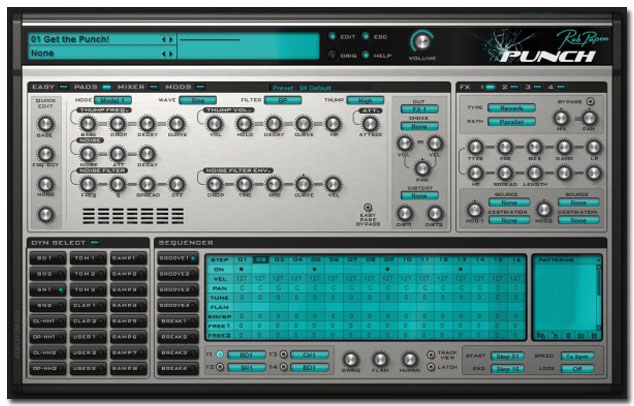 Punch – drum synthesis/sampler instrument

As a highly-alluring heavyweight drum synthesis/sampler software instrument with built-in samples and groove sequencers, Rob Papen's powerful Punch was an instant hit when first unleashed on an unsuspecting music world in 2011, expeditiously earning its creator rave reviews in the press while finding fans across blurring boundaries between divergent musical genres — from Dutch DJ superstar Armin van Buuren to Rob Abernethy (known throughout Europe, Asia, and the Americas for his cutting-edge approach to music composition for video games, television, and film), who wrote, "I found grooves and sounds on it that I've heard nowhere else; it's immediately inspirational."
Punch 1.0.4. Update
Today, though, the best just got a whole lot better! The latest version (1.0.4) of Punch comes complete with many more presets, drum presets, samples, and grooves, plus three new tutorials focusing on the creative use of Punch and showcasing the superlative sounds and amazing features and it has to offer professionals — such as Armin van Buuren and Rob Abernethy — and amateurs alike!
Speaking of which, be sure to check out an intriguing and informative introductory video from Rob Papen himself where you can see and hear him talk about the creative process behind Punch 1.0.4. Clearly, the depths that this renowned sound design devotee is prepared to go in pursuit of his sought-after craft makes for fascinating viewing: "Punch is focusing more on the newer electronic sounds, so new drum and percussion stuff. So we sampled stones from Greece, which we dropped into water; we sampled glasses. We also recorded bamboo. It was a very creative process, in which we combined several odd things to create brand-new sounds — like a little gong, which we put in water, and I recorded that as a kind of water gong. Combined with that, we made also a whole range of new presets — over 2,000 drum presets are inside Punch right now! Next to these new sounds and samples, we also extracted all the MIDI files from the current grooves, and included our new drum kits and new MIDI files."
Rob Papen has rightfully reclaimed pole position at the cutting edge of today's electronic synthesizer drum machines with Punch 1.0.4. And, as it's an update, existing Punch owners can download it for free by simply logging into their Rob Papen account and following the straightforward instructions. In fact, anyone interested in spicing up their drum and percussion parts is instructed to try Punch 1.0.4. Sign up for a demo version or proceed to purchase. Either way, we're sure you'll love what you hear as much as we loved creating its new content! Quite simply, it's a knock-out!
Punch can be purchased as a boxed version from authorised Rob Papen dealers worldwide with a 15% discount throughout November for €124.00 EUR (including VAT/tax)/$149.00 USD or downloaded directly from Plugin Boutique.