Queen Latifah's front-of-house engineer Rob Treloar found a match made in heaven when she opened this summer's Jazz at the Bowl series at the Hollywood Bowl. Having heard about Manley's VOXBOX from other engineers, Treloar decided to try it out in rehearsal.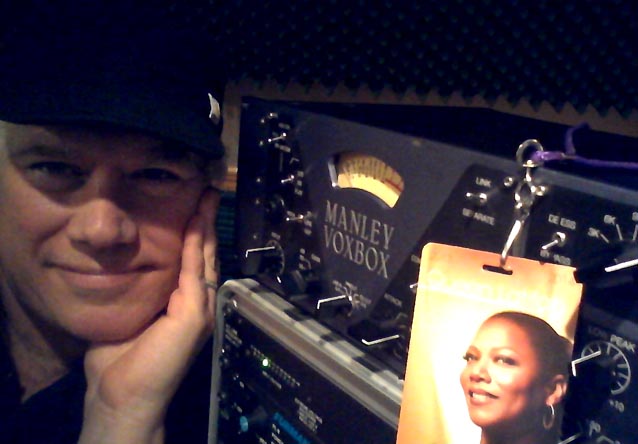 Manley VoxBox
"It sounded fantastic. So I brought it over to the Bowl, used it there, and it just sounded unbelievable." Adding to the thrill was the venue's brand-new, multimillion-dollar sound system. "It was wonderful to be able to use that device and hear it through that system. It's probably one of the most expensive systems in the world now."
Treloar knew just what he wanted for Queen Latifah's voice. "I used to work for a very high-end audio design company, and I was brought up listening to components that were analog and sounded incredible. My ears were spoiled at an early age, and I wanted to hear that kind of sound, that warmth with clarity on Queen Latifah's voice. The EQ was so smooth. I was able to tailor her voice perfectly and there was absolutely no harshness that many digital EQs introduce." But the VOXBOX virtues don't stop there, adding a de-essing feature that reduces sibilance without affecting the overall EQ.
That's where the Manley VOXBOX fit the bill perfectly. The use of Class A electronics definitely played a role, in turning to Manley. "Utilizing the preamp on the VOXBOX, I plugged it directly into her channel on the board. I was immediately floored."
Treloar notes that Latifah has one of those voices most FOH engineers dream of: loud, full, and topped off by excellent microphone technique. "The VOXBOX made my life a joy at F.O.H., as Queen Latifah would go from the whisper-quiet of Poetry Man to the roar of full-on rap U.N.I.T.Y. ÏI could mix and not have to hover on her channel constantly. Noting that although a lot of on-board compressors on digital consoles are good, but if you don't set them perfectly, you can hear them working, but the VOXBOX was just seamless. You couldn't hear it working, but it was there, doing its job. Which was very impressive."
Treloar also appreciates Manley's commitment to bringing top quality to the professional engineer. "Sometimes I wonder if fidelity has gone by the wayside just to appease a spreadsheet. Well you get what you pay for. This is a piece of quality gear, and you know it when you're working with it. You can just feel it." And Manley's customer service can't be beat. "A lot of people don't really understand what we do as engineers. It's nice to have a company that works with us, lets us try things and listens. Really friendly people, and very accommodating. It was a great experience."