Next to the Eris E5 and E8 models, Presonus present the E4.5 model. The Eris E4.5 Hi-Definition 2-Way 4.5″ Nearfield Monitors (Pair) are designed for recording studio tracking, mixing, and mastering. Each monitor features a 4.5″ Kevlar woofer for midrange and a 1″ silk dome tweeter for treble powered by a 25W class AB amplifier.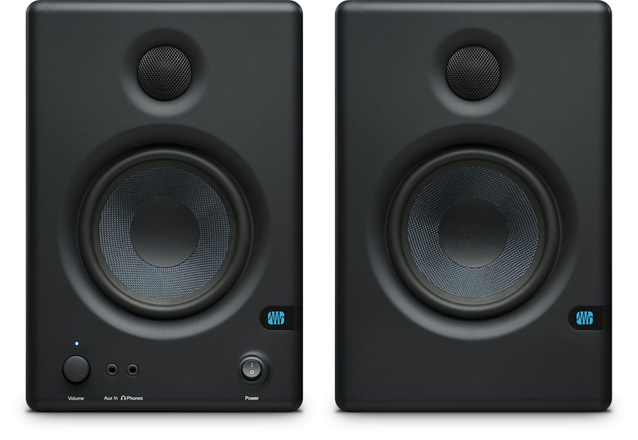 When Size Matters
If space is at a premium, or if you want the ultimate in portability, consider the ultra-compact Eris E4.5. It may be the size of a computer speaker, but this mighty mite delivers professional audio quality, thanks to a 4.5-inch, Kevlar low-frequency driver; a low-mass, 1 inch, silk-dome tweeter with protective grille; and Class AB amplification. Each speaker is powered by a 25W Class AB amplifier—plenty of juice for a small speaker. The E4.5 ranges from 70 Hz up to 20 kHz, and at 6.42 x 9.45 x 7.09 inches (163 x 241 x 180 mm), you can shoehorn this little beauty into almost any studio space.
All Eris speakers (E5 and E8) have front-ported enclosures made of vinyl-laminated, medium-density fiberboard (MDF).
Product Highlights
For Studio Recording, Mixing, Mastering
Acoustic Tuning Adjustment Controls
1″ Silk Dome Tweeter for Treble
4.5″ Kevlar Woofer Cone for Bass
25W Class AB Amplification
RF Interference and Overload Protection
Heat, Transient, and Subsonic Protection
100 dB Maximum SPL
70 to 20,000 Hz Frequency Response
1/8″ Stereo Headphone Output Included