Rudimental are an electronic act from Hackney, London who continue to go from strength to strength. Their debut album "Home" went straight in at Number 1 on the UK Albums Chart (featuring two Number 1 singles "Feel The Love" and "Waiting All Night"), and the now Platinum album also won a MOBO Award this year, as well as picking up a Mercury nomination. Live-wise, they've played more than 40 festivals in 2013 alone including Glastonbury, Bestival, BBC Radio 1's Big Weekend, Benicassim and Made In America, and have a UK tour coming up in February 2014.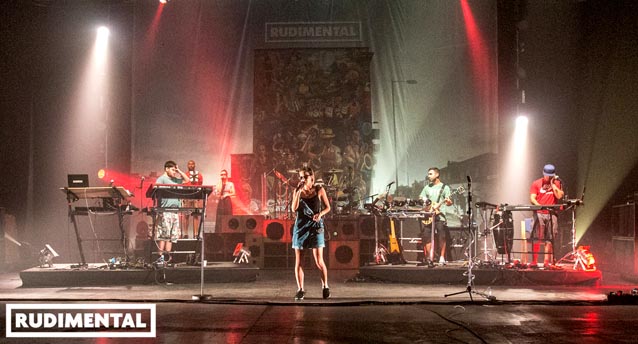 Amir (Amor – one of the four members of Rudimental) talks to us about their London studio setup:
"The studio setup is based around synths. The Novation Bass Station II links up nicely into Logic, which is what we usually use – we can have it going straight into the computer, which makes life a lot easier. We use our Focusrite ISA 220 and a couple of Saffire Pro 40 interfaces for recording everything including drums. Everything's centred around those in the studio. The vocal chain that we use at the moment is an AKG C414 going into the ISA 220 – it's really cool, it's got a nice EQ."
The band also has various other Novation equipment – Amir's first hardware synthesizer he bought was the Supernova. "I had a lot of fun with it, as that was the first time I'd used something other than a plug-in, and I found it a lot quicker than using a computer and soft synths. I prefer using hardware whenever we can." The band also use a Launchpad for DJ sets.
For live shows, Amir uses the Bass Station II as his main performance synth for bass sounds, such as for the powerful bass line that can be heard in "Feel The Love".
After his original synthesizer gradually broke down due to humidity during a tour in Australia, Amir explains he's been unhappy with every synth he's tried since – "It's hard to replicate an analogue sound in a small synth. You don't get the same power that you get from an analogue signal, and it's been hard to find something else.
The great thing about the Bass Station II is that it did just that – it's been the first synth that I've used live that I was actually satisfied with, an analogue synth with digital control that makes life easier. I can have presets saved – before, I used to do everything on the fly with a piece of paper, noting down attack and filter settings, and I would switch these settings in between songs. Now I just press the right arrow. It still has the full analogue sound to it – there's definitely a lot of fun to be had with a Bass Station II live."
Piers and Kesi also use Impulse 61 keyboards on stage – Piers uses it to send MIDI messages to his Access Virus controller, and Kesi uses it as a controller for MainStage on his laptop.
Amir also highlights the importance of continuing to write and staying productive whilst on the road – "A lot of bands fall into the hole of writing the next album. One thing that's helped us is having portable gear with us – I've really enjoying the Launchkey Mini and the Forte.
I use the Forte all the time to record guitar in wherever we are – hotels, dressing rooms, straight into my laptop. It sounds beautiful, and it has a really lovely preamp. It's my favourite portable interface out there.
The Launchkey Minis are really cool – the pads are really useful for me as they correspond to NI's Battery, which I use for drum sounds. The pads are 16 pads across which correspond with the full 16 pads in Battery, and syncs in really nicely which is really useful for me as it means I can switch through banks quickly – I know that the first pad is always the kick, the second pad is the snare…
It's a little mini keyboard I can whack out anywhere, when I'm waiting at an airport for four hours!"