Mixed In Key have announced that their professional and harmonic Key Detection software has been updated to version 6.0. With many improvements and new features the software is available now for purchase for 58 dollars from the Mixed In Key website.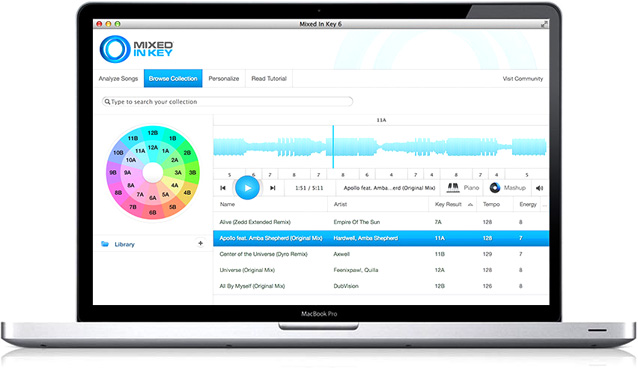 Mixed In Key 6.0 uses the most incredible key detection they've ever created. It thinks like a human musician, and gives you results that sound flawless. The new version analyzes your music in 600% more detail than Mixed In Key 5. The key results from Mixed In Key 6.0 are more beautiful than ever.
Check the results anytime
MIK added a Grand Piano to the software, so you can verify the results anytime. This is completely optional, but it's amazing to hear how accurate Mixed In Key 6.0 sounds.
You can change key results using the piano, and Mixed In Key 6.0 will automatically update ID3 tags.
Features
New: Ability to see Energy Level changes in the audio player
New: Import your playlists from iTunes
New: Edit the energy level results by clicking inside the audio player
Excellent support for ID3 tagging, so you can use Mixed In Key results in Traktor, Serato, Pioneer CDJs + rekordbox, and every other DJ software.
Multi-core support for faster processing
Retina support on Mac OS X
Built-in audio player
Ability to see key changes in the middle of the track
Clickable "Camelot" wheel to browse songs quickly
Improved analysis for short samples and producer packs
You can use Mixed In Key with Traktor, Serato, Pioneer CD-Js, Ableton Live, and more. It works with all of them.