At the NAMM this week Prism Sound is introducing their new USB Audio Interface Atlas. Designed around the breakthrough and patented Prism Sound Cleverclox clocking technology and featuring eight of the incredibly popular Prism Sound microphone preamplifiers, the new Prism Sound Atlas USB multitracking interface is the professional choice.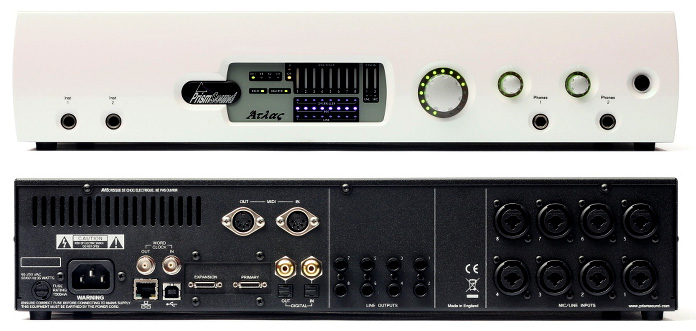 Atlas
Atlas is a USB multi-track audio interface for personal recording and sound production, for professional musicians, songwriters, engineers and producers as well as recording studios, post production facilities and scoring stages. Atlas is ideal for music and sound recording, mixing, multitracking, overdubbing, stem-based mastering, analogue summing and critical listening applications.
Atlas provides Prism Sound's renowned performance, sound quality and state-of-the-art clock technology in a dedicated unit compatible with both Windows (Vista, 7 and 8, 32 and 64 bit, ASIO as well as MAC OS X 10.4.11 and later (Intel). Once configured with a computer, Atlas can also operate stand-alone using its ADAT, S/PDIF or AES3 I/O.
Like all Prism Sound products, Atlas leads the way in terms of digital and analogue audio quality providing truly uncompromised and world-beating audio interface performance which can only be achieved from over 25 years of leading audio expertise.
Specifications
No-compromise, full Prism Sound audio quality

Dedicated USB interface

Multichannel Digital I/O (MDIO) expansion port

ASIO drivers provided for Windows VISTA, 7 and 8 (32 and 64bit)

Directly compatible with CORE AUDIO on Mac OS X 10.4+

Eight "Prism Sound" premium-quality AD and DA channels

Concurrent operation of ADAT and switchable S/PDIF or AES3 ports

Eight high-end integrated mic preamps (typ.-130dBu EIN)

Mic pres have individually switchable phantom power and 20dB pads

MS Matrix processing on mic inputs

Two instrument inputs

RIAA Equalization on inputs 1 & 2

Prism Sound "Overkillers" on every analogue channel to control transient overloads

Fully-floating (isolated) balanced architecture for optimum noise rejection

Mono or stereo input configurations

Outputs selectable between workstation bus or Atlas mixer

Low-latency "console-quality" digital mixer for foldback monitoring

Fader, pan, cut, solo on every mixer channel

Dual headphone outputs each with its own front-panel volume control

Front-panel master volume control and mute, assignable to selected channels

Configurable for stereo, 5.1 or 7.1 or surround monitoring

Built-in sample rate conversion (SRC) on S/PDIF Inputs and Outputs

Prism Sound 4-curve SNS noise shaping on digital outputs

State-of-the-art clock generation with proprietary hybrid 2-stage DPLL