Driven by rapid fire hardware envelope snap, and near modular sound flexibility (at the flip of any of its 20 toggle switches), the STUDIO ELECTRONICS BOOMSTAR desktop* synth is a performer and sound designer's waking dream. At the recent NAMM they introduced two new Boomstar modules: Boomstar SE80 features the filter from the Yamaha CS80 and the Boomstar 700 has the Korg 700s style filter.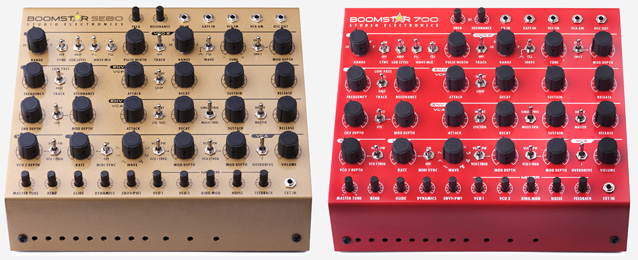 The Boomstar foundation
Two Oscillators—stackable waveforms with Sub OSC, two Envelopes—invertible, loopable, with 'drone' and 'master' mode, is accented expressively by hardware XMod and exponential glide, extensive modulation routing, and a flexible software LFO: jacked for heavy lifting and fine-tuned experimentation—even go "off synth" with the external input and color exotic oscillations.
The quick-turn shaft pots along the bottom for the hardware Ring Mod, Noise, Filter feedback and VCO Levels make vital sonic change intimate, immediate, and indispensable; the adjacent Overdrive switch adds warmth and edge. Thirty one pots insure fluid, ntuitive mastery over wide-ranging sweep and subtlety of tone: feather in the changes or whip them suddenly and rhythmically into shape.
S.E.'s patchable, discrete, through-hole, hand-matched transistor, American-made analog synthesizers are as rugged as they are flexible; inspiring instruments built to last a lifetime, and then some, no matter which brilliant, hand-crafted filter model you choose.
Now Six Models Pumped
– SE80—the legendary, creamy, multi-mode Yamaha CS-80
– 700—innovative MiniKorg
– 5089—classic Moog 24dB ladder
– 4075—powerfully resonant ARP 2600
– SEM—the original Oberheim 12dB
– 3003—the chirpy, acidic, bouncy Roland TB-303
* Rackmount kits are now in production.