The Aphex USB 500 Rack rockets the 500 series concept into the 21st century! By combining a 500 series rack and a USB 2.0 audio interface into one product, Aphex has opened up the 500 series platform to a much wider audience.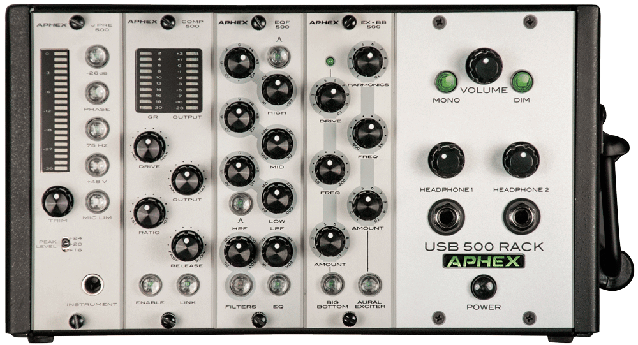 Aphex USB 500 Rack
The rack bridges the gap between the traditionally analog 500 Series workflows and modern DAW workflows by providing a solution for you to use 500 Series modules directly with your DAW. Use your favorite mic preamps as inputs directly to your DAW or use your favorite analog compressors and EQs as hardware inserts in your DAW, all while monitoring though the pristine monitor section of the USB 500 Rack, which includes Mono and Dim functions along with two high performance, independent headphone amplifiers.
For even more flexibility, modules can be chained in the analog domain for channel strip operation or linked for stereo compression (see your modules' linking documentation).
The USB 500 Rack also provides balanced XLR connections for use as a standard analog 500 series rack.
Features
6 x 8 Computer Audio Interface @ up to 96k

Input to computer from 4 modules and stereo S/PDIF
Output from computer to 4 modules, stereo analog and stereo S/PDIF

Functions as a standard 500 Series rack
Modules can be configured in series
Empty slots can be used as line inputs to the computer (or hardwire bypass of an installed module)
2 headphone outputs (HeadPod 4 technology)
Volume, Mono and Dim for stereo analog output
MIDI I/O
220mA of power per slot available when evenly distributed