MusikMesse time is leak time! The first victim is Akai with the announcement of the APC40 MKII. In 2009, Akai Professional partnered with the creators of Ableton Live, a powerful performance and production software environment, and introduced the original Ableton Performance Controller. With the debut of the APC40, Akai Pro raised the standards for controller design and revolutionized Ableton Live software and hardware integration. Akai Pro now unveils the reimagined APC40 MKII.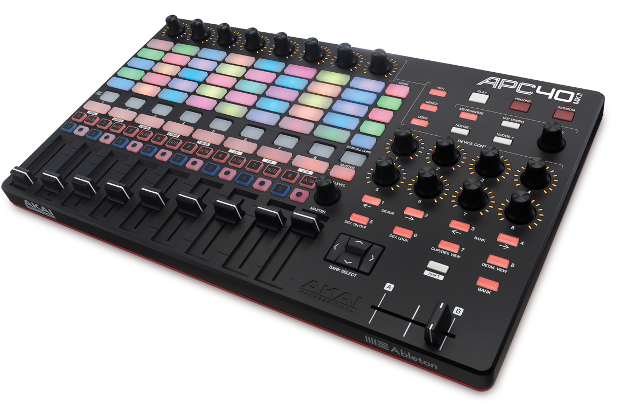 APC40 MKII
Akai Pro's flagship Ableton Live controller, the new APC40 mkII, incorporates five years of user feedback into its design for extended functionality, countless musical capabilities, and improved workflow. The APC40 mkII features a 5×8 RGB LED clip launching matrix, assignable A/B crossfader, 8 rotary knobs, 8 channel faders, and a send button for quick access to send busses.
Included with the APC40 mkII is a suite of software, samples, and loops for out of the box electronic music production: Toolroom artist launch packs, Prime Loops sample packs, Hybrid 3 by AIR Music Technology, and SONiVOX Twist give users endless music production possibilities with hand selected samples & loops and high definition virtual synthesizers. The APC40 mkII is USB powered and supports plug and play.
Some specifications
• 5×8 RGB LED clip matrix – launches clips with visual feedback
• 8 channel faders, 1 master fader, and 8 device controls – map to Ableton Live directly
• Intuitive layout – revised knob layout with in-line controls for smarter workflow
• A/B crossfader – can be assigned on the fly for dynamic mixing
• Send button – press and hold Send and use the Track Selects to choose one of 8 sends
• Music production content – Toolroom artist launch packs, Prime Loops sample packs, Hybrid 3 by AIR Music Technology & SONiVOX Twist
More info on Wednesday