Mixing Link is a compact, high quality Microphone (mic) Preamp with an Effects Loop for easy and convenient patching of various audio between your mic (or instrument) and your stompbox, mobile device, amp, console, and computer interface. Mixing Link can be used in many ways to fit into virtually any audio setup.

Eventide Mixing Link
Mixing Link has been designed to be equally at home on the pedal board, desktop and in studio and live environment. Mixing Link boasts 65dB of gain and works with dynamic and ribbon mics. It also supports condenser mics with its built-in 48V phantom power supply. Mixing Link provides a variety of connections for pro and instrument (balanced/unbalanced) levels, and an Auxiliary Mix connector and a headphone amp for monitoring.
Creative Uses
There are many creative and practical applications in which the Mixing Link can excel. In addition to being a stellar microphone preamplifier, it can be used with a plethora of connections for DI, re-amping, headphone monitoring, signal level matching, or mixing and interfacing solutions.
Mixing Link allows easy connection of any microphone, instrument or line inputs to any/many destinations. For instance, you can connect balanced line level outputs to guitar amps and mics to balanced line level inputs simultaneously. You can also generate stereo to mono summing and a stereo send output simultaneously. Using the headphone amp output Mixing Link can also be used with your favorite stompbox as a practice amp or vocal monitor. Mixing Link is a problem solver and a creative tool and should be in every musicians' and audio engineers' toolbox.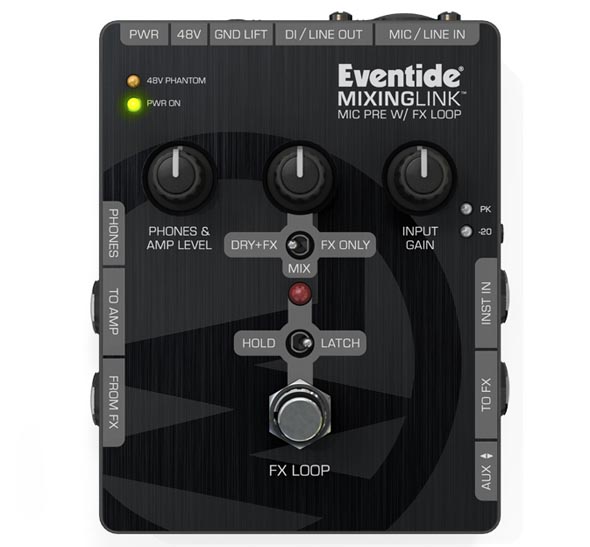 Features
-High Quality Mic Pre with FX Loop in a compact form factor
-FX Loop Send and Return supports Balanced and Unbalanced signals – interfaces with consoles or guitar pedals easily
-Latching or Momentary Footswitch control of FX Loop for performance effects
-Works with a wide range of microphones including condenser and ribbon mics with up to 65dB of clean gain
-Aux I/O connection supporting stereo input and send
-Guitar Amp output and Headphone monitor output with separate master volume control
-International universal power supply included
-Operates on 9V battery
(No phantom power)
-48V Phantom power for Condenser mics
-Balanced XLR Output which supports DI and Line levels
-Instrument and Balanced Line level inputs
-Versatile Mix Control supports 3 modes- 100% Mic w/FX blended in, or Mic/FX balance control, or 100% FX (no Mic)