Korg have announced that their 'Taktile' controllers are available now. The KORG taktile/TRITON taktile are USB/MIDI controllers equipped with the same great-feeling, semi-weighted keyboard found on Korg's KingKorg and Krome. Taktiles are loaded with functions that make them fun to use.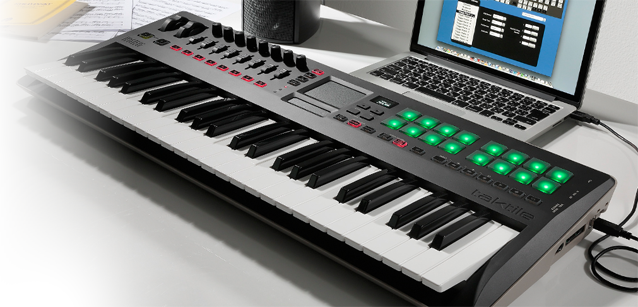 Taktile
The controller features a stylish design that projects a sense of presence, together with the same great-feeling semi-weighted keyboard that's used on synthesizers and music workstations such as the KingKORG and KROME. It's loaded with functions that make it fun to play and use, such as a touch pad inherited from the Kaossilator that lets you play melodies using just a single finger, trigger pads that let you generate chords in the key and scale of your choice and an arpeggiator that includes rhythm patterns.
Of course, the taktile also delivers the functionality that you expect from a MIDI controller. It provides all of the basic controllers such as sliders and switches, and makes setup easy so you can start producing music right away. Convenience is not the only attraction of the taktile; it's a MIDI controller that's full of features that will stimulate your creativity.
DAW Control
The taktile is designed for simplicity; connect it to your computer via a single USB cable and the power turns on. It supports the major DAW/sequencer software, and its easy setup lets you start creating music right away. Controllers can be freely assigned, making the taktile a USB/MIDI controller that will meet all demands, from controlling a mixer to editing your software synthesizers.
Supported software:
Cubase 7
Live 9
Garage Band 10
Logic Pro X
Pro Tools 10
SONAR X2
Digital Performer 8
Any other application that supports MIDI input