Gloriuos designs tasteful and functional furniture for DJ and studio equipment with the aim to be more than simple storage space for turntables, CD players, mixers or DJ controllers.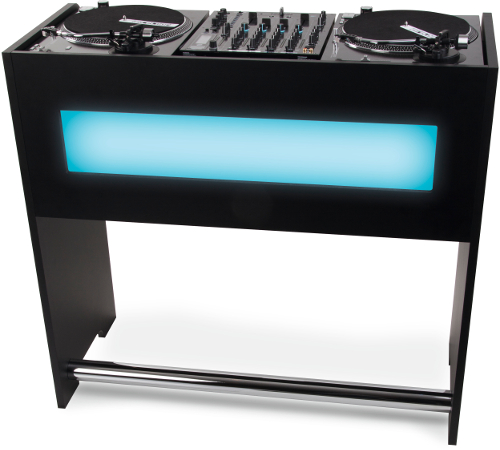 Glorious offers high-quality wood and metal constructions, refined with high-class finish and stylish illumination, all catering to the needs and dimensions of turntables, keyboards and controllers. Despite the fancy design the practical is guaranteed due to sturdy laptop stands, headphones holders and convenient cable consuits.
The Glorious Gig Bar is a stylish and modern piece of DJ furniture with a very tasteful design. A nifty combination of sophisticated materials emphasize the Gig Bar's ambitions to be more than just a utility place for DJ equipment. Moreover this DJ workstation is available in black or white finish but not only the components are designed coherently. An aluminum support stabilizes the table giving the Gig Bar that certain touch. The acrylic front plate improves the Glorious gig Bar and makes it a real eye-catcher. The optionally available LED kit puts the table in the limelight, as a multicolor LED strip illuminates the table softly in various shades. The integrated cable cavity as well as the pre-mounted connector strip avoid any cable tangle.
– For 2 turntables or tabletop CD players or controller and 1 mixer (up to 14") – High quality acrylic front plate
– Massive aluminum support
– Available in black or white
– Optional LED kit available
– Material: MDF wood
– Dimensions: 109,5 x 100,5 x 49,3 cm – Weight: 32 kg
more info: Glorious Gig Bar website