Unity Audio will be shipping the new Unity Audio Boulder MK II at the end of June. The active 3 way active monitor will retain all the great attributes of the original MK I, for example the same Baltic Birch sealed plywood cabinet, albeit larger to accommodate the two new 8″ SEAS woofers, the original ELAC coaxial 5″ midrange with 50kHz folded ribbon tweeter, and the same custom E.A.R Class A/B amplifiers and crossover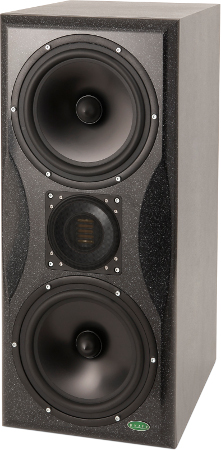 The results of the 4x 8″ woofers over the previous 4x 6.5″ woofers is an increase of 4dB in SPL figures and even more low frequency extension with the -3Db point in the low 30Hz region and -3dB at 36kHz.
The Boulder MkII has the same fast tight transients with the bass being reproduced perfectly as before but now delivered with detailed sub frequencies too as the 8" woofers move a lot more air and the user can feel the bass now as well as hear it! The new SEAS 8" woofers also produce even more clarity and detail in the lower mids, up to the crossover point for the 5" mid driver. The folded ribbon tweeter is now measuring -3dB at 36kHz, with a really flat and smooth all the way from the mids crossover point.
"Tests with existing Boulder users and dealers has been amazing, everyone loves the MK II and many have ordered upgrades for their MkI's which is possible as in the past we supported Rock MkI customers by offering MKII upgrades. With the Boulder MKII we've hit that balance of having a really super accurate detailed monitor for mixing but is also a fantastic vibey monitor to work while writing and tracking a band".
The Boulder MkII will cost $8350 ex vat retail price for a pair. More info at www.unityaudio.co.uk