studio furniture designer and manufacturer ZAOR is proud to introduce the MAREA media workstation — another addition to its flourishing family of CLASSIC Series media workstations, this time tailored to stylishly and comfortably accommodate a new generation of compact mixing consoles and associated accessories.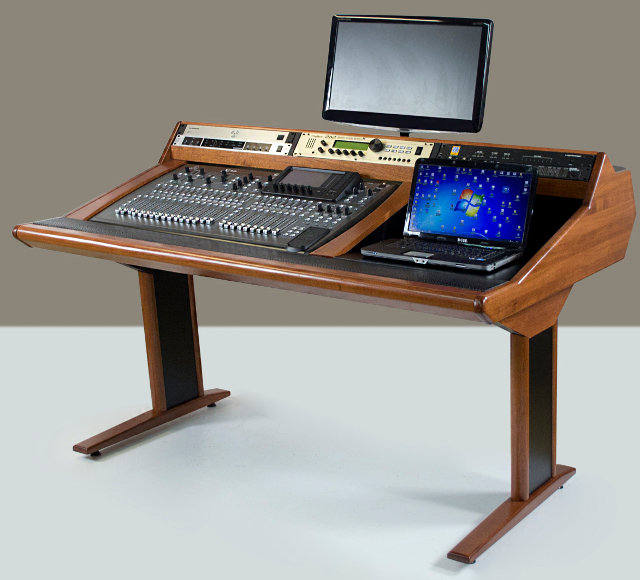 The MAREA media workstation itself is supported by two sleek, stylish, and sturdy legs featuring solid wood to avoid boxy, resonant design flaws that often hampered the smaller-scale audio professional in the past. Placing relevant controls within direct reach of any user sitting in the so-called sweet spot with any rack-mounted gear slightly set back at arm's length means that MAREA makes the most of the primary ergonomic space available and users can comfortably get on with doing what they do best, making the most of their audio production, whatever that may be.
MAREA's neutral black-coloured body blends effortlessly in with any studio surroundings while its side panels, legs, and armrest are all attractively fashioned from locally-sourced oak — which can be left in its natural blond-coloured state or stained to Cherry, Walnut, Mahogony, or Black (as per the purchaser's wishes) — to clearly convey a sense of its inbuilt quality and definite durability. Make no mistake. MAREA is one seriously professional media workstation that will look and play the part in any professional studio setup where space is at a premium. Premium priced it is not, however, weighing in at an equally attractive price point to entice purchasers with the prospect of still being able to fill their boots — and their MAREA — with great gear! Great ergonomics and great sound living in perfect harmony, MAREA makes sound economic sense, that's for sure. What more could a cost-conscious audio professional need or want?
The MAREA media workstation can be ordered online directly from ZAOR Studio Furniture starting at an RRP of €1,050.00 EUR (including 15% tax, plus shipping costs) for the basic version, or from any authorised dealer.