Gemini is pleased to announce the completely redesigned Slate 4, Gemini's first USB DJ controller for Serato DJ Intro.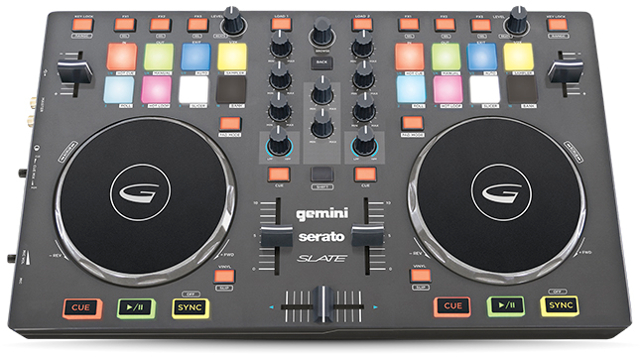 Two full-featured decks, four channels of mixing, and two rows of large performance pads, in a thin and light package designed to take advantage of Serato DJ Intro's professional features in a convenient and portable form factor for todays constantly on the go world.
Gemini worked closely with Serato to redesign the Slate 4 for Serato DJ Intro and Serato DJ. Shipping with Serato DJ Intro, users will have access to high quality Effects, SP-6 sample player, Hot Cues, Slicer and an assortment of Loop modes. Serato DJ Upgrade Ready by a simple in-app purchase Slate 4 users can access even more Serato DJ.
Plug and play for Serato DJ Intro and Serato DJ, the Slate 4's intuitive design gives anyone the ability to DJ. Designed with the common 2-deck and a mixer layout the Gemini Slate 4 is the perfect DJ controller for the beginner wanting to learn to mix or the seasoned professional. The Gemini Slate 4 will have a street price of $199.
Since 1974, Gemini has designed products that offer value and innovation in the DJ and Pro Audio markets. Today, their portfolio continues to develop in scope and diversity, providing gear for DJs, musicians, engineers, professional installers and general music enthusiasts around the globe. From media players and digital controllers, to high-quality mixers and loudspeakers, Gemini has built a legacy with passion for innovation and devotion to their customers.