DJ, producer or musician? Or do you wanna become one? Get ready for the 4th edition of Play & Produce, the biennial must attend event for everyone in the electronic music scene, on saturday November 8th in Vooruit Ghent, Belgium.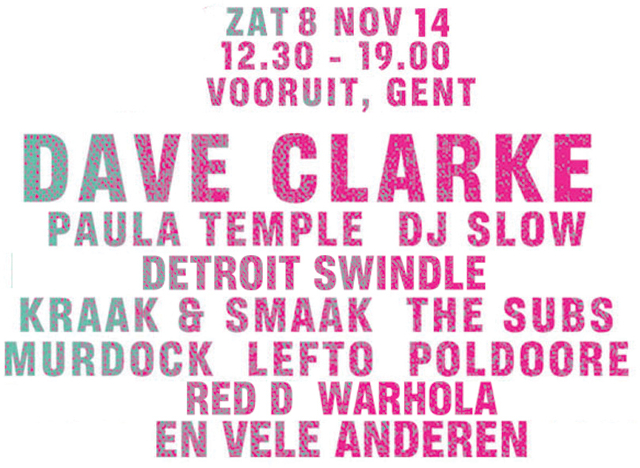 What to expect? A sh*tload of MUSIC & BUSINESS TALKS, DJ MASTERCLASSES, FEEDBACK on your tracks and remixes, a DEMO PITCH with leading labels, an ACADEMY for absolute beginners, the PLAYGROUND where you can check out the latest gear and software, and a whole lotta more electronic goodness. We've got a program designed for all DJs and producers, no matter what level, style or genre.
These national and international TOP DJs and producers will share their knowledge with you: The Baron of techno Dave Clarke, techno goddess Paula Temple, We Play House Recordings labelboss Red D, Amsterdams finest house producers Detroit Swindle, Emmanuel Barron (leading man at the French label Savoir Faire), Pelican Fly head honcho dj Slow, techno icon Marco Bailey, the Dutch producing trio Kraak & Smaak, the don of the Belgian drum and bass scene Murdock, dj and tastemaker Lefto, Pukkelpop programmer Eppo Janssen, Tom Stoop (Laundry Day), Renaat Vandepapeliere (R&S), The Subs, Warhola, Herrmutt Lobby, dj Ghost, Jerboa, and many many many more.
You can get some valuable feedback on your tracks and mixtapes from professionals like San Soda, Gratts, Bafana, Kong, Sheridan, One87, Kastor, The Oddword, Syndaesia, AKS, Gullfisk, Maxim Lany and many more. Ready for the next level? Play & Produce is your one shot opportunity to pitch your demo to leading labels like Hospital Records (UK), Top Notch (NL), R&S Records, Tangram, Warner, PIAS and N.E.W.S.
Do you have absolutely no experience with deejaying or producing? Then there's plenty of playtime for you too on Play & Produce. In the Academy you get to learn the DJ and producer skills you need to become a top notch DJ or producer, from scratch.
Can't get enough? Go wild on our Playground with the latest DJ and producer gear and software! Still nog enough? Great, because there's plenty of more electronic goodness. Check playandproduce.be for the full program.
The concept is still unique in Belgium and remains a not to miss opportunity to socialize with colleagues and professionals from the music biz.
When? Saturday November 8th 2014 – 12.30 – 7.00pm.
Venue? Vooruit, Ghent Belgium
Cost? Students – €10 (€13 at entrance) | other – €12 (€15 at entrance)
Check playandproduce.be for news, program, line-up and tickets!