Lynx Studio Technology introduced the new line of PCI Express Cards at the Los Angeles Audio Engineer Show. These cards combine the connectivity of the Lynx AES16e PCI Express card with the audio quality of the Lynx Aurora converters. The first two offerings are the E44 and E22 cards.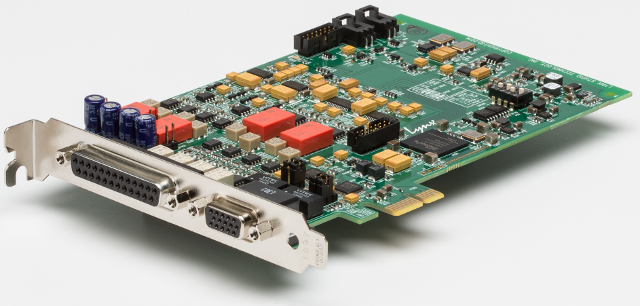 "Since 2000, the LynxTWO and L22 audio cards have been the go-to cards for high resolution computer audio in the PCI format. Now that most computers only offer PCI Express, we have had many requests from our customers to port the LynxTWO design over to PCI Express," explained Bob Bauman, Co-founder and Chief Hardware Engineer. "That was the starting point for these two cards. We combined the ideas that we have used over the last decade to develop a PCI Express card line that will meet the needs of our customers in many areas."
The E44 offers four analog input and output channels and four AES/EBU channels, expanding on the I/O offered by the LynxTWO- A card. The E22 offers two analog input and output channels and two AES/EBU channels, essentially the equivalent of the L22 PCI Card. A new software mixer, similar to the one developed for the AES16e and Aurora Thunderbolt, will be available.
The E44/E22 PCI Express cards are designed to satisfy the most demanding professional recording and broadcast studio requirements. Built upon the legacy of the industry-leading LynxONE and LynxTWO cards, the E series takes a leap forward to offer the highest performance A/D and D/A conversion system ever incorporated into a PCI Express card. In fact the E44 and E22 performance even eclipses that of the Lynx Aurora converters. Since 1998, Lynx has provided high-reliability add-in cards engineered for 24/7 operation. The E series improves upon this tradition with upgraded enhancements for I/O protection and shielding of computer noise and their associated power supplies.
The use of field-programmable-gate-arrays (FPGA) is another core technology pioneered for use in audio devices by Lynx. The E series uses the latest devices with a wealth of resources for parallel processing in our 16 X 8 mixer and V2 DMA engine which maximizes throughput on the PCIe bus while minimizing CPU workload. As always, FPGA's allow for field-upgradeability to add features in the future.
Ideal for:
• Capturing and archiving historic and classic material with extreme accuracy and transparency.
• Broadcast applications requiring 24/7 flawless operation
• Audio measurement
• Audio production
• Medical, military and industrial applications that require full audio spectrum capabilities and extreme reliability
The E44, available December 2014, has a suggested retail price of $1095. The L22 suggested retail price is $795 and will be available in Q1 2015.