When researching how to capture the much sought-after sound and vibes of classic 1970's studios, Question de Son owners Jordan KOUBY and Frederic VECTOL reached out to Amadeus for both the acoustic design and custom studio monitors for both Studio A and Studio B. The team at Amadeus, led by designer Michel DELUC, satisfied all their needs. Question de Son is now one of the most respected studios in France, and a "favorite Paris recording studio."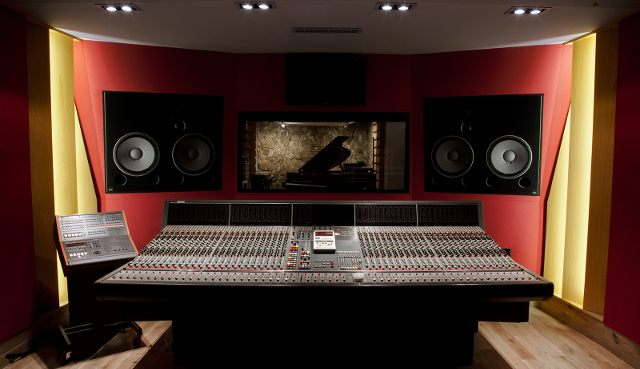 The two pairs of custom Amadeus monitors feature dual 15-inch low frequency woofers, a 3-inch mid range and a 1.5-inch Beryllium tweeter, with 4,000 watts of tri-amped power – 2,000 watts of that assigned to the dual low frequency drivers. Based in France, Amadeus has become one of the premiere manufacturers of custom studio speakers, as well as high-end sound reinforcement systems for live and installed sound; with a focus on Europe and Asia, the Company continues to expand.
"Many recording studios try to face the record industry crisis by simplifying their installations – gear, maintenance, less investments, essentially 'in the box' mixing setups. At Question de Son studios, we resolutely try to go the other way. We build up vintage audio peripherals, our microphone collection goes from the 1940's to now, and some of our musical instruments date from our grandparents' generation," states sound engineer, producer and Question de Son Studios' co-founder Frederic VECTOL.
Defining the type of studio they imagined, Jordan KOUBY, sound engineer, producer and Question de Son Studios' co-founder, adds, "We share the vision big studios had back in the 1970's – the Golden Era of the recording studios. At this time, there was no compromise. These studios everybody keeps talking about with nostalgia even today all shared common foundations: good acoustics, a huge mixing console, top-quality peripherals, a dedicated team of 'in-house' engineers, and a lot of vibes. This is, for us, the most pertinent recipe to keep on making big records today." The studio has already hosted artists such as MeShell NDEGEOCELLO, Anthony JOSEPH, Micky GREEN, Elliott MURPHY, AYO, Keziah JONES, Martin SOLVEIG, BabyShambles, and many others.
Describing his experience at Questions de Son, engineer Etienne COLIN ('The Artist' Original Motion Picture Soundtrack, OSS 117 Soundtrack, Jacques DUTRONC) says, "The Studio B's Amadeus monitors are really very interesting. They offer not only a high quality for passing-by label executives and customers, but also a high level of comfort for the mixer, all day long, without fatigue. Question de Son won their bet: close field speakers and big monitors are really coherent. And there's never a bad surprise when we listen to our mixes elsewhere. A special mention is given to the ATC dome, always precise, never aggressive."
Continuing to describe their process in building the studios, the co-founders offer, "The studio's acoustics were a priority for us, a matter we were not willing to compromise on," says Jordan KOUBY. "That's why we called Michel DELUC. We had worked 5 years in our first studio, and we had especially understood how important acoustics and monitoring systems were in our control rooms." Frederic VECTOL offers, "That's why we asked Michel to design the main loudspeaker system and the acoustics together."
Recalling his connection to Amadeus, Jordan KOUBY adds, "We had discovered Michel's work several years before in producers' Tefa & Masta studio, a place where we completed technical tasks such as wiring and mixing desk installation. Michel DELUC had designed the acoustics and a custom monitor pair there, and the final results were very impressive. As soon as we made the first sketches for our new studios, we contacted Michel, with these very positive memories in mind. We then discussed a lot about the studio design and the monitors. When I first showed Michel some outlines, we already had strong ideas about the kind of sound we wanted. Our common inspiration came from studios such as Electric Lady Studios in New York."
Commenting on the speakers he wished and co-imagined, Jordan KOUBY says, "One of our ideas was to build the speakers with ATC 150 dome midrange speakers, a double TAD 1601b 15-inch boomer, and an Esotar 330 tweeter. We also considered using TAD compression drivers with horns, but we quickly abandoned this idea. Michel finally came back to us with his ultimate design. Its style and technical characteristics immediately astonished us. We then had to wait a little more than a year to complete the studio building and to finally get our two pairs of monitors. We had to launch a first experimentation phase to choose the most appropriated tweeter and to break in the loudspeakers. But the results already seemed most interesting: stereo image, precision at all the frequencies, and a very comfortable listening experience."
Having worked at Question de Son, engineer Jeff GINOUVES (Michel PETRUCCIANI, Aldo ROMANO, Kellylee EVANS…), states, "I have already recorded and mixed several albums in Question de Son studios. The big Amadeus monitors are essential to our work, thanks to their sonic qualities, their balance and their precision."
Detailing his discussions and choices about the speakers, Jordan KOUBY concludes, "About the tweeter, our common final choice was a 1-inch beryllium Scan Speak D3004/664000. This speaker is at the same time very precise and very pleasant to listen to. No listening fatigue, even after several days of work with the monitors. After several months of break-in, a final tuning was necessary. Since then, we are absolutely delighted with the listening quality on our control rooms, as all Question de Son's customers are. We get nothing but praises and compliments about the acoustics, the monitoring systems and the comfort of working in our different studios."
Today, Question de Son is one of the top choices for studio recording and mixing in Paris, and in all of France, "When I'm recording, I look for a good room with a variable acoustic environment, good vintage and contemporary analogue equipment in top condition," adds engineer Steven FORWARD (Paul MCCARTNEY, Ray CHARLES, Depeche Mode, Johnny HALLYDAY, Serge GAINSBOURG, Stéphane EICHER, Laurent VOULZY, Florent PAGNY…). He continues with his required list for productions, he says he needs "…state of the art digital recording technology, a choice of classic microphones and reliable monitoring in a clean tight control room. I find all these qualities at Question de Son, and that's why, very simply, it's become my favorite Paris recording studio."
For more information at 'Question de Son' studios in Paris visit: www.questiondeson.com
About Amadeus
Amadeus develops, manufactures and sells a wide range of high-end sound reinforcement loudspeakers, studio monitors and various signal processing interfaces that combine its own custom innovative technology with stylish design, for the professional audio industry. Created in 1992 from the collaboration between the French designer Bernard BYK and the scientist and musician Michel DELUC, the Amadeus brand has grown to become a leading supplier of high-end audio solutions and services for theaters, opera houses, museums, recording studios, research centers and touring concert sound rental operations. All development and product manufacturing is centralized in Amadeus headquarters in France, with field offices and authorized distributors located in Europe, Asia and UAE.
Specifications for Amadeus' studio monitors at Question de Son:
The Amadeus 4-way Custom Monitoring System is equipped with one 1-inch dome tweeter made of a 99% pure beryllium diaphragm and a large roll surround, improving the perception of transients and other micro details in the audio; one 3-inch ATC soft dome mid-range driver which combines high sensitivity with extremely low distortion; and two 15- inch low-frequency TAD direct radiating woofer, which features a cone diaphragm made of a tough and lightweight material that is capable of withstanding high amplitude levels without deformation.
Each custom studio monitor is built around a unique internal reinforcement structure, designed to neutralize any 'standing waves' and to suppress energy loss caused by vibrations. Each speaker's multi-layer panels combine a subtle blend of woods, high-density bitumen, 'elastomers' (polymers) and mineral fillers.
* Amplitude Linearity (± 2dB): 30 Hz – 20 kHz Cut-off Frequencies (-6dB, free-standing): 24 Hz – 30 kHz
* Max. Continuous SPL (1 meter): 130dB
* Transducer (HF): 1 x Beryllium 34-mm Soft Dome tweeter
* Transducer (MID): 1 x ATC 75-mm Super Dome mid driver
* Transducers (LF): 2 x TAD 375-mm bass drivers
* DSP Type: Analog Devices SHARC DSP with 40-bit floating point data allowing
* Amplifier (HF) Output: 1 x 1000W (8Ω) with PFC System and Power Limiting Mode
* Amplifier (MID) Output: 1 x 1000W (8Ω) with PFC System and Power Limiting Mode
* Amplifiers (LF) Output: 2 x 1000W (8Ω) with PFC System and Power Limiting Mode