Scottish based SkoogMusic announces the launch of its new low-cost wireless Skoog 2.0 on crowd funding site Indiegogo, aiming to raise £75K to finance the final stage of development to get their product out to market. This week the company gave more details about its new Skoog- controlled synth app called Mogo.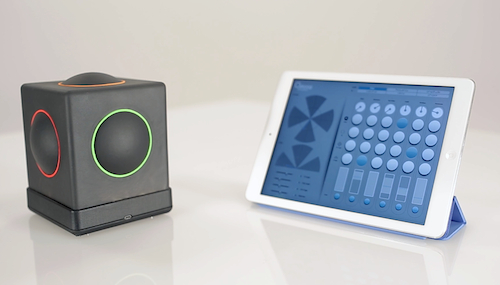 Mogo is Skoogmusic's latest software-synth creation, designed to give musicians the opportunity to explore sound using the tactile sensing capabilities of Skoog 2.0. It has fully assignable filters, envelopes, stereo multi-effects, a multi-stage arpeggiator, a built-in loop station; and can even be used to manipulate any audio input for on-the-fly filtering and effects processing.
"Sonically speaking, the Mogo synth engine is second to none, using a classic 24dB ladder filter for full-on bass and crisp mids and highs." said Dr David Skulina, Chief Technology Officer at Skoogmusic.
Skoog 2.0 is a squishy foam cube with five moulded surfaces that can be assigned to notes and/or parameters in the software. The entire Skoog is responsive – not just the raised surfaces.
"Skoog 2.0 doesn't look like a standard MIDI interface because it isn't." continued Dr Skulina.
"Its deceptively simple appearance hides a powerful sensor that detects how and where the body of the Skoog is deformed in 3D. By mapping sonic parameters to the sensor data, a single gesture can be used to produce complex musical expression.
"The level of control is unlike anything we've ever put together before. What makes Skoog and Mogo so special together is that they can be used to perform musical gestures that might require the musician to have a third hand when using standard MIDI controllers.
"By manipulating multiple parameters at once, Skoog 2.0 provides new and intensely rewarding ways of exploring sound. The combined auditory and tactile feedback feels natural and intuitive and is great for live or studio based soundscaping." he said.
About Skoog 2.0
• Wireless
• iOS / Android / OSX / Windows compatible
• Multi touch and more responsive
• New music making software
• New Skoog-synth App called Mogo
• Additional apps/software in development
• API and Ableton Plugins in development
• £125 Pioneer pre-order sold out on indiegogo.com
•!£149 Early Adopter available to pre-order on Indiegogo.com
About Mogo
• Subtractive synthesis sound engine with 24dB ladder filter! • Assignable filters, envelopes and multi-effects
• Adjustable notes, key, scales / modes
• Multi-stage Arpeggiator
• Built-in Loop Station
• Audio input for real time filtering and effects control
• OSX Beta version available for Beta Testing
•!iOS / Android versions available March 2015
More info at Indiegogo.