Harmony Systems announced the availability of three new products to its expanding Delora Software line of Kyma control surface and connectivity applications. vKi and vKi lite, for the iPhone/iPod touch, bring one-hand, remote Virtual Control Surface (VCS) control to Symbolic Sound's Kyma X sound design environment, while vKiP turns the iPad into a full featured wireless multi-touch control surface for Kyma.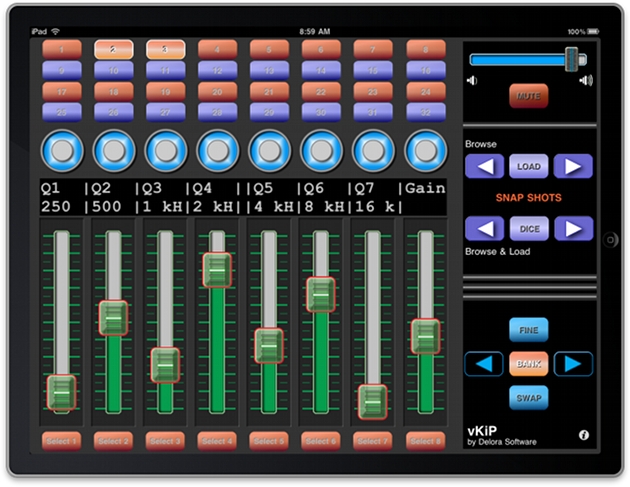 vKi, vKi lite and vKiP employ Kyma's integrated Open Sound Control (OSC) features for direct WiFi communication with a Pacarana or Paca sound computation engine. No additional software is needed, making it usable with both OSX and Windows workstations.
vKiP builds on Harmony Systems' experience with vM2 (for the Lemur) and vKA (for the Akai APC40) to provide a VCS compatible controller. All of the required buttons, LEDs, faders, and rotaries are present on a single screen for convenient, ready access. A large, readable "LCD" message area displays labels, setting values, and snapshot names. A full implementation of the VCS banking standard affords access to as many fader and rotaries as Kyma allows.
vKiP is optimized for both landscape and portrait orientations and offers both right and left handed operation.
vKi works hand-in-hand with the Kyma VCS to provide ready, real-time access to a Kyma sound's fader and rotary parameter settings. vKi supports the VCS parameter banking scheme, allowing complete access to any fader or rotary parameter. A convenient master volume fader and mute button affords ready adjustment of Kyma's overall sound level. Also featured is recall of snapshots by name, or quick snapshot browsing.
vKi lite is much more than a demo or trial version. It offers four faders and four "fader/rotaries" that can be used to control up to eight Kyma sound settings. This makes vKi lite useful for many sounds in your library and a perfect way to experience vKi.
vKi ($9.95), vKi lite (free) and vKiP ($39.95) are available on the App Store on iTunes.