In today's world, speed is everything. The blazingly fast Zoom TAC-2 interface uses the latest Thunderbolt™ technology for ultra-low latency and the ultimate in high-quality audio, up to 24-bit/192kHz. Lightweight and portable, yet rugged enough for the road, the TAC-2 is also easy to use, with a single large rotary knob controlling all parameters. Whether using it in your home studio or on the road, you can rely on your TAC-2 to deliver pristine audio.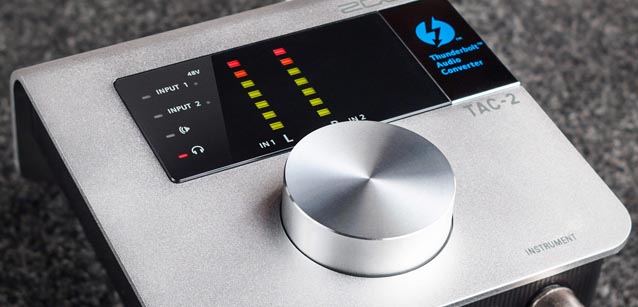 Routing audio signal to and from editing software
Just connect the TAC-2 to your computer via Thunderbolt and then plug the audio source (such as a portable recorder, mixing console or music player) into the TAC-2's inputs. You can monitor signal coming from the software via headphones or by connecting the TAC-2 outputs to amplifiers or self-powered speakers.
Recording voice and instruments into a DAW
Enhance your music by adding your own instruments and voice. The TAC-2 makes it easy to do: Simply connect microphones and instruments to the inputs and then connect the TAC-2 to your computer's Thunderbolt port. The extreme low latency provided by Thunderbolt technology ensures that you can overdub to existing tracks with little or no audible delay.
Onstage playback of audio from your computer during live performance
Got some great sounds in your laptop? The TAC-2 can bring them to life—simply connect it to your computer with a Thunderbolt cable and then connect the rear panel TAC-2's TRS outputs to your mixing board or PA system. That's all it takes to turn your laptop into an instant live instrument.
Thunderbolt: The ultimate in high-speed connectivity
More than twice as fast as USB 3.0—not to mention twenty times faster than USB 2.0 and twelve times faster than Firewire 800—Thunderbolt is the interconnection technology of the future. Co-developed by Apple and Intel Labs, it allows signal to be transferred at an incredibly fast 10 gigabits per second, which means virtually no latency. Thunderbolt interfaces such as the TAC-2 are also unaffected by computer jitter (slight variations in timing), so there's no need to connect an external master clock source.
In addition, Thunderbolt carries 10 watts/18 volts of power (as compared to the 2.5 watts/ 5 volts carried by USB 2.0)—enough to provide stable phantom power. This also allows the use of high-end components such as the Burr Brown PCM4202 analog-to-digital converter and AKM AK4396 digital-to-analog converter in the TAC-2.
The TAC-2 performs 4-times upsampling during both analog-to-digital and digital-to-analog conversion. In other words, when the sampling frequency is set to 44.1kHz or 48kHz, the TAC-2 processes the signal at high resolution 176.4kHz or 192kHz. For A/D conversion, this means less aliasing noise; for D/A conversion, this means increased clarity and fidelity
More Details on the TAC-2 here.