Alesis launches a new series of USB/Midi keyboard controllers. The Photon 25 is optimized for controlling and manipulating software via USB, and includes unique user customizable templates that can be placed on the front panel.
The Photon 25 offers advanced features such as a four character LED display, high-quality keyboard, X/Y joystick to control Pitch Bend modulation and other parameters, and high-resolution knobs.
The Photon X25 combines superior USB/MIDI control and high-quality recording in one cool looking product.
With unique features such as the revolutionary Alesis Axyz controller dome and ten 360∞ endless knobs, users will have powerful MIDI control of all their software plug-ins. Advanced features include 24-Bit, 44.1/48 kHz Audio with balanced stereo audio inputs and outputs, 25 key, velocity sensitive keyboard and great feeling , full-size Pitch and Modulation wheels, and an LCD screen with dedicated encoder for fast and easy set-up. The Photon X25 is the solution for musicians who want new tools for their software as well as audio I/O for high-quality recording and playback from their computers.
Each Photon offers twenty editable, storable configurations; easy template placement for virtual instruments and digital audio workstations; three way power (USB Bus Power, Optional External Adapter or 4 "C" cell batteries) and is Windows and Mac ready.
Alesis Chairman John "Jack" E. O'Donnell commented: "The Photon Series of keyboard controllers is simply an amazing value. These are sophisticated keyboard controllers with comprehensive features that go far beyond their low prices."
The Photon 25: ( € 210.00 )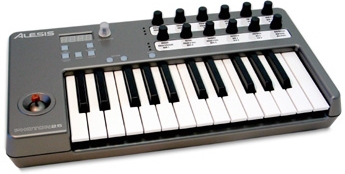 The Photon X25: ( € 250.00 )