Yamaha Professional Audio expands its family of popular MG Series analog mixers with the Summer NAMM debut of two units, the MG8/2FX and MG12/4FX. Available in November, user applications include project studios, classrooms, houses of worship, board rooms, personal monitoring and submixing.
The MG8/2FX features a maximum of eight mixing channels. Input configuration includes four mono channels with three-band EQ, and a maximum of three stereo inputs with three-band EQ. The unit also includes a two STEREO output buss structure and single AUX/Effect send/return. Mono channel inputs contain both mic level XLR-type connectors and line level unbalanced TRS phone jacks. Stereo input channels are equipped with both unbalanced phone jacks and RCA phono jacks. An optional mic stand adaptor provides convenience for musicians onstage, making the MG8/2FX ideal for use as a personal mixer.
The MG12/4FX features a maximum of 12 mixing channels, six mono input channels with three-band EQ and a maximum of four stereo inputs with three-band EQ. The unit also includes a four STEREO and GROUP output buss structure, two AUX/Effect send/returns and built-in stereo SPX-type effect.
Mono channel inputs contain six mic level XLR-type connectors and four line level unbalanced TRS phone jacks. Stereo input channels include eight unbalanced phones and two pairs of RCA jacks. Rack mounting ears are included
The Yamaha MG8/2FX: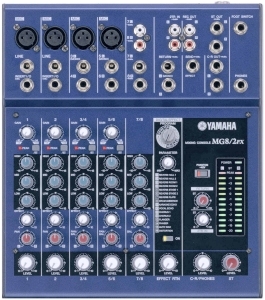 The Yamaha MG12/4FX