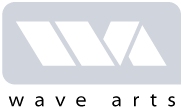 Wave Arts plug-ins can now be used on Windows based Digidesign Pro Tools systems. This rounds out our comprehensive native processing support on Macintosh and Windows platforms.
Our line of essential music/sound production plug-ins includes:
TrackPlug- all-in-one 10 band EQ/compressor/gate

MasterVerb- silky smooth reverb

WaveSurround- stereo spatial enhancement

MultiDynamics- up to 6 bands of compression/expansion processing

FinalPlug- mastering limiter/volume maximizer
In addition, we have released version 4.05 of all our plug-ins which includes various bug fixes and is free to all existing customers of version 4 plug-ins. See http://wavearts.com/Revisions.html for more information.
Wave Arts plug-ins are available for Windows (DX, VST, RTAS), Mac OS X (AU, VST, MAS, RTAS), and OS 9 (VST, MAS, RTAS).
For more information and free 30-day demos, visit www.wavearts.com.