Digidesign is excited to announce VENUE, an innovative, state-of-the-art modular live sound reinforcement mixing and processing environment offering the quality and functionality of high-end live sound mixing systems at a far more affordable price point. Digidesign will show VENUE in booth #L90 at The PLASA Show in London from September 12-15, 2004. VENUE is expected to ship in Q1 2005.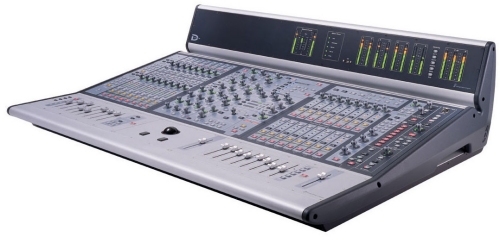 VENUE is made up of various building blocks that comprise an entire system, a host of expandable hardware subsystems and software components. The centerpiece of the VENUE system environment is D-Show™, a highly capable mixing console with expandable digital mix engine and control software, mix position analog and digital I/O, remote-controlled mic/line preamps, a multi-channel digital snake, and the innovative Personal Q™ artist-controlled monitor mixing option. VENUE also supports DSP effects plug-in processing and features an integrated recording and playback option for industry-standard Digidesign® Pro Tools® systems.
"Digidesign is entering the live sound market with a unique perspective that comes from being a market leader in the transition to digital technology in the recording studio," says Dave Lebolt, Digidesign general manager. "We've brought the expertise we've gained in that area, along with a healthy appreciation of the specialized requirements of live sound reinforcement, in creating VENUE. This modular system features the highest possible standards of audio quality and reliability at a very affordable price."
"VENUE was designed with a lot of input from seasoned live sound pros who have felt in the past that using digital mixing consoles in a live context involved a trade-off between flexibility and sound quality," states David Gibbons, Digidesign director of product marketing. "As the divisions between traditional mixing functions, speaker processing, system analysis, recording, and show control are beginning to blur, VENUE intentionally integrates these elements and delivers all of the convenience and flexibility a state-of-the-art mixing system can offer, while providing the best possible audio performance and fidelity in both the analog and digital domains. We've created a purpose-built, modular live sound system that delivers studio-grade sound quality, maximum reliability, and unprecedented flexibility."
Studio-grade Sound Quality
VENUE's D-Show features an extremely powerful, precise, and flexible digital live sound mixing engine, providing incredible sound quality, headroom, and fidelity. Internal 48-bit processing provides unparalleled resolution for the onboard EQ and Dynamics sections, and offers uncompromised headroom on mix busses. Every channel of the D-Show console is equipped with delay, full 4-band parametric EQ (including additional 4th order HPF), and two dynamics processors. D-Show's EQ algorithms feature four fully overlapping 20 Hz – 20 kHz bands with +/-18 dB of boost/cut, along with a unique, separate analog EQ emulation mode.
Each of the system's mic preamps is hand-calibrated during manufacturing to maximize Common Mode noise Rejection Ratio (CMRR). D-Show's remote-controlled mic/line preamps and high-quality converters use a digital snake system, perfectly preserving fidelity by capturing signals near the source while simultaneously eliminating potential grounding problems between the FOH mix position and stage.
Maximum Reliability
VENUE was purpose-built from the ground up specifically to service the stringent requirements of live and concert sound reinforcement. Multiple redundant subsystems ensure that audio continues to pass through to the speakers, even in the unlikely event of a system restart. Moreover, operators retain complete control over channel mutes and faders in the unlikely event of a restart — an industry first.
Optional dual-redundant power supplies for all critical components and dual-redundant snakes with auto-switchover ensure a fail-safe environment. VENUE has also been drop, G-force, and temperature-extreme tested, tirelessly quality-assured, functionally revisited, and thoroughly field-tested on the road and in various installations to ensure non-stop, solid performance. VENUE is backed by Digidesign's renowned customer support, with on-road replacement service and authorized repair centers located in major cities around the world.
Unprecedented Flexibility
VENUE's D-Show console supports a myriad of professional DSP effects processing plug-ins through its expandable DSP mix engine architecture, providing virtually unlimited possibilities for creative sound processing and original mixes. D-Show allows you to take advantage of the very same effects algorithms professional recording studios use with Pro Tools, including detailed emulations of high-end hardware processors. This minimizes reliance on outboard gear and introduces unique, D-Show-specific processing algorithms to the mixer's palette.
VENUE is also the first live sound environment to feature an optional direct digital link to industry-standard Digidesign Pro Tools systems — without requiring separate converters or digital I/O peripherals. This enables operators to seamlessly integrate a separate Pro Tools workstation with the D-Show console to record a show or augment a live performance with Pro Tools playback. VENUE also supports off-line configuration, maximizing productivity by enabling operators to prep a system on a laptop prior to a show, and then simply upload the data to D-Show's embedded computer as needed.
From concert halls to places of worship, VENUE's superior sound quality, reliability, and innovative functionality ensure that great live performances are conveyed without compromise.