The latest in a series of new, powerful Digidesign® plug-ins, Smack!™ has been developed for Pro Tools® music makers who require a great-sounding, flexible, and easy-to-use compression tool.
Accurately modeling automatic gain reduction devices previously found only in hardware, Smack! controls the volume of just about any source in a very "musical" manner, adding fullness, intelligibility, and excitement to any track. Its user interface is intuitively constructed, with a look and feel reminiscent of vintage devices, enabling you to create an amazingly wide range of tonal coloration with a minimal set of controls.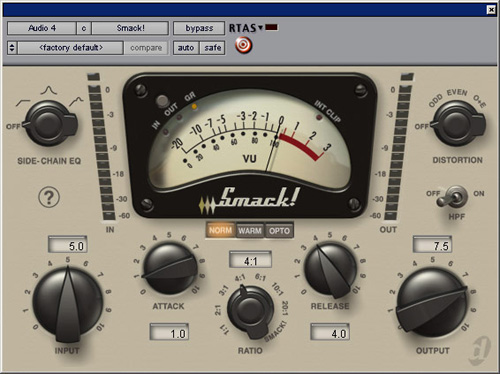 At home in Pro Tools-based music, broadcast, post production, and sound design applications, Smack! is an ideal plug-in choice for use with bass, drums, and vocals to bring optimal track placement and presence to your mix. Offering the ultimate in plug-in flexibility, it supports both Digidesign and Avid® software, and provides support for all Pro Tools sample rates up to 192 kHz, all multi-channel track configurations (with linked gain reduction), and AudioSuite™, RTAS®, and TDM plug-in types. Smack! is also available in AudioSuite and RTAS versions —"Smack! LE" — supporting Pro Tools LE and Avid software. Smack for Pro Tools HD & HD accel costs $595, and Smack LE (for Pro Tools LE) costs $395.