Native Instruments is excited to announce Electronic Instrumenst 2 – an
outstanding collection of eight new instruments for Reaktor 4 and Reaktor Session.
Electronic Instrumenst 2 contains three unique synthesizers, two inspiring
drum machines and three highly versatile effect units, all of which offer an
unprecedented level of sonic sophistication and visual polish. The
collection offers a powerful and highly creative toolkit for contemporary
electronic music and sound design, and showcases the amazing potential of
NI´s modular sound design software Reaktor at its best.
Sound design for Electronic Instrumenst 2 was done by artists like BT,
Exile, Jam El Mar, Junkie XL, Machinehead, Photek, Richard Davis, Richard
Devine, Speedy J, Telefon Tel Aviv and others.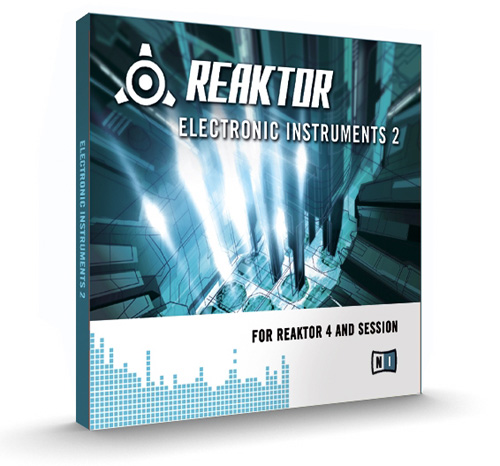 The eight instruments included in ELECTRONIC INSTRUMENTS 2 are:
PHOTONE – Hybrid Master Synthesizer
A polyphonic powerhouse of a synthesizer that redefines the standard for
REAKTOR synthesis. Photone boasts an extensive array of special features
including custom oscillator types, flexible filter routing, analogue "drift"
and detuning emulation as well as a slew of advanced modulation options.
LIMELITE – Advanced Beat Composer
The weapon of choice for hypermodern beats of all sorts. Combining a
powerful step sequencer with a careful selection of samples and an awesome
array of effect processors, Limelite takes the beatbox concept to a whole
new level.
METAPHYSICAL FUNCTION – Dynamic Soundscape Synthesizer
Far more than "just another synthesizer", Metaphysical Function offers a
truly engaging audiovisual experience with a vast and unique sonic palette
ranging from beautiful soothing tones to dark, disturbing soundscapes.
KRYPT – Granular Drum Machine
This is a loop generator quite unlike any other. Krypt consists of a
programmable granular sampler wired to a six-channel sequencer with an
intelligent pattern generation algorithm, and is capable of generating
polymorphic beats which are simply unheard of.
AKKORD – Sequenced Chord Generator
By chaining together a highly specialised synthesis engine with a practical
polyphonic pattern sequencer, Akkord excels at generating rich chord
sequences as well as dynamic monophonic lines.
FAST FX – Advanced Performance Effects
A combination of six unusual effects that turn any track into something
really unique – by slicing, filtering, gating, looping and "freezing" the
signal in unspeakable ways. Fast FX also features a special 'live' snapshot
system, which makes it perfect for live performance.
RESOCHORD – Programmable Polyphonic Resonator
This powerful resonator imprints harmonic structures onto any input signal,
including percussive sounds with no existing harmonics. Resochord integrates
six feedback units, each resonating at a different frequency, to generate
rich and luscious chords from every material which is fed into it.
CYAN – Extended Vintage Chorus
A high-quality chorus and much more than that. Cyan offers many exciting
sound-shaping possibilities through advanced features such as tempo
synchronisation and flexible delay modulation control.
All eight instruments are for use within Reaktor 4 and Reaktor Session and
can therefore be deployed in all plug-in formats that Reaktor supports.
Within Reaktor 4, all instruments can also be freely edited and modified.
The Electronic Instruments 2 Collection will be available from September 17th 2004
for a suggested retail price of $119 / 99 Euro from authorized dealers and
in the NI Online Shop.