Smart AV Pty. Ltd., an Australian based manufacturer, announces "The Smart Console™", the first mixing control surface incorporating patented ARC technologyTM. Smart AV has created a new breed of console that sets a new standard of ergonomic efficiency associated with mixing and editing large numbers of channels.
ARC Technology uses a physical ARC to present and unify the functions of interrogation and channel selection into a spatially fixed array providing instant access to any channel or combination of channels. Simply touch the strip, the desired channel and the channels surrounding it immediately appear in front of the operator, as though he/she had instantaneously moved in front of those channels on a traditional long console. With this single touch, 800 previously out of reach controls snap to within reach. Even the handwritten channel description is transferred to the strips in front of you. Alternatively, the sound engineer can access channels in any order as easily and as quickly as a musical director can point to his players.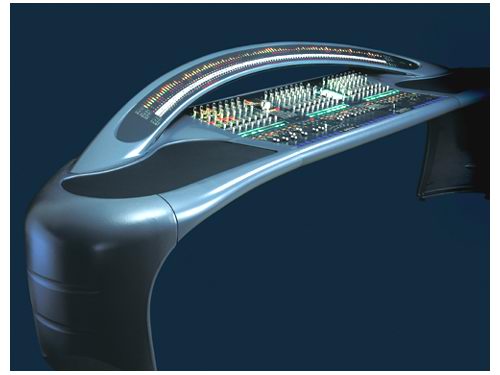 The Smart Console is the first audio console design to both reduce the number of knobs on a panel AND reduce the number of actions required in order to gain access to out of reach controls. Compared with Long and Assignable consoles, the Smart Console exhibits a five-fold reduction in console demands to achieve a given task.
The Smart Console is designed as an 'open platform' to capitalise on the strengths and experience of other leading audio manufacturers. Building on the partnerships we already have, we are actively seeking out further products to work with the Smart Console family. Our goal is to give the user access to the best of all audio worlds.
The Smart Console is initially available for use with the following mixing engines:
The Logic Pro 6™ from emagic – The VADIS System™ from Klotz Digital – The Pyramix Virtual – Studio™ from Merging Technology – The QDC engine™ from Fairlight – The DME64N and DME24N™ from Yamaha.
Details about delivery, shipping and prices will be added as soon as possible. More information available on www.smartav.net.