Now you will be able to experience the Nord Modular G2 demo software. This software will demonstrate a bit of the power of the Nord Modular G2 hardware system. The demo software only hints on the possibilities of the hardware.



This demo program itself is not intended to be used as a musical tool. Of course, the G2 hardware instruments are real professional musical instruments. That is why they are designed as independent hardware instruments with a velocity and aftertouch sensitive keyboard the acclaimed Clavia pitchstick and modulation wheels, plus a revolutionary new front panel concept. In our view, only hardware can offer rockstable and trouble free operation in a Single Box Solution.



In other words; real musical instruments that you just pick up and take on the road to do a gig or a recording session. Or just to have a good time jamming with your friends. Still, this demo software gives you a good chance to see and hear what those characteristic high quality sounds of the G2 instruments are all about. And try out the endless possibilities by patching new synthesizers.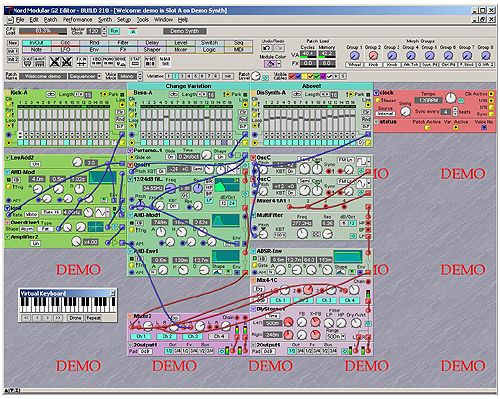 Disabled features in the demo software:

* Polyphony is limited to one voice while the hardware has a maximum of 32 voices per sound.

* The demo can only play one sound at the time while the hardware is 4 part multitimbral.

* A couple of modules are disabled.

* The demo does not support audio in and MIDI out.



NOTE: This demonstration software is strongly limited in terms of performance compared to the G2 hardware system. The performance of the software is also depending on the type and speed of your processor and audio card.


Learn more about Nord Modular G2 demo at: www.clavia.se/G2/demo