i3 is very proud to announce the availability of the new major upgrade of its award winning product DSP-Quattro, now version 2.0. DSP-Quattro 2.0 comes with a series of very important new features and improvements, from the capabilities offered by a BatchProcessor fully integrated into the application, to a new state-of-art Linear Phase Sample Rate Converter (SRC) with outstanding performances, both in terms of audio quality and processing speed.
An improved internal graphic engine allows immediate cut, copy & paste (now extended on single channels selections) and undo/redo operations. Even more, all the file I/O has been greatly optimized, allowing processing speeds and graphical overview rebuilds even 500% faster respect the already outstanding performances of the previous versions. Be prepared, there is very, very much more!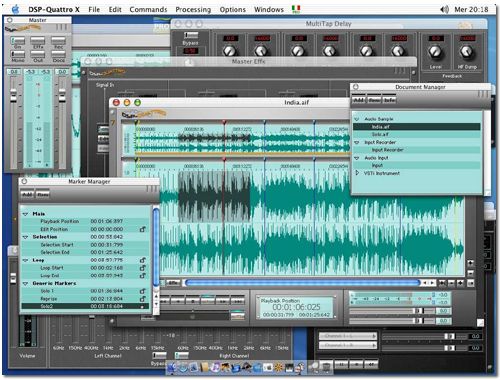 New on this version:

* New innovative audio file Doc manager, to work on audio files without the need to rebuild the overviews. Working with the PlayList or BatchProcessor only, do not request any additional waiting time

* New Batch Processor, for automated file format conversion, plug-ins and additional processing

* New state-of-art HQ Sample Rate Converter (SRC) algorithm with selectable quality options, applicable also exporting the PlayList, for AudioCD-ROM burning and for BatchProcessing

* New option for using a new graphic engine for the immediate Cut, Copy&Paste, no need to rebuild the overviews in this case

* Immediate undos/redos, always without the need to rebuild the overviews

* New Internal VST plug-in database management: no more long waiting times during the application startup

* New nested menu interface implementation for the best VST and AU plug-ins management

* Cut, Insert and Replace editing functions now works also on single L&R channels of stereo files

* Copy Left On Right and Copy Right On Left channel edit functions

* New export function to save the PlayList Tracklist into a text file for printing

* New preference options
For more information on upgrade possibilities and additional pricing visit www.i3net.it/Products/dspQuattro or chack out our product page (link below).