RTcessories™ is proud to introduce the USB Micro•PRE – a high quality USB audio interface with a standalone Phono preamplifier.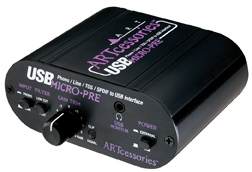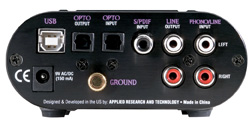 The USB Micro•PRE acts as an interface between your computer and a wide variety of analog and digital sources. The analog inputs are switchable between Phono and Line level signals and a low cut filter removes rumble and wind noise while leaving the audio pristine. The front gain trim control and signal/clip LED allow you to optimize the A/D for a wide range of input sources. The front panel USB monitor/headphone jack and the optical output on the rear panel can monitor audio output from your computer. The built-in low noise Phono preamp circuit is highly accurate and precisely conforms to the RIAA standard. The Line Output jacks are always connected to the input preamps signal for source monitoring.
Housed in an all aluminum black anodized case, the USB Micro•PRE can be powered by either an external power source or directly off the USB port so remote recording is a snap. Optical TOSLINK inputs and outputs as well as S/PDIF inputs let you use the USB Micro•PRE as a digital audio to USB interface as well. The USB Micro•PRE is fully compliant with the USB 1.1 specification and uses USB adaptive mode for playback and USB asynchronous mode for record. It will work with the USB audio device drivers built into Windows 98SE/ME/2000/XP or Macs with native USB support OS9.1 or greater or OSX. No special drivers are needed.
Upgrade your portable or desktop audio interface in one quick and easy step. The MSRP on the USB Micro•PRE is $99.00 and will be available at music specialty stores Worldwide in April 2005.