The XP202 is a great all-round 24-bit 96kHz enabled USB audio interface for Mac or Windows PC's that provides quality solutions for today's musicians, DJ's, audiophiles, and multimedia content developers alike. Perfect for musicians for use as a professional audio interface with recording applications like Cubase, Logic, Wavelab, Nuendo, and equally at home for audiophile users wishing to transfer their precious vinyl album collections to CD, the XP202 performs like no other.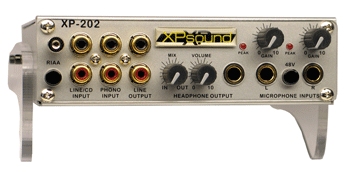 With simple setup, cross platform compatibility, and a multitude of connection possibilities the XP202 USB audio interface excels in terms of features, price and performance.
Give your vinyl discs new life! The 'XP202' USB audio interface provides a unique solution to achieve high quality transfer of vinyl records and cassettes to PC. Because record players, tape recorders, microphones, and many other devices operate at differing audio levels, a professional audio interface like the 'XP202' is required to match levels. The built in RIAA equalizer guaranties perfect processing of the incoming pick-up signals from your turn-table and provides users an unmatched listening experience. A ground connector is provided on the front panel for connection to your turn-table.
The price of th XP202 will be US $199.95 incl VAT. Shipping will be around March 2005