Focusrite Launches OctoPre LE DAW and Digital Console Interface
High Wycombe, Bucks (January 18, 2005) – At the NAMM Show 2005, Focusrite will show OctoPre LE, the "lite edition" of the company's established OctoPre,
bringing Focusrite pre-amplification and A/D-D/A conversion to a new level of
affordability for DAW and digital console users. OctoPre LE provides eight
channels of pristine Focusrite preamps, including two "Super Channels" that
offer mic impedance matching and instrument D.I. inputs plus other features.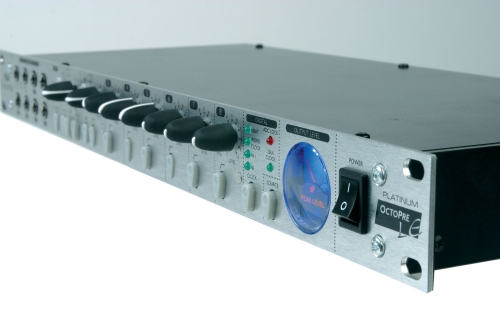 With the optional A/D-D/A board installed, OctoPre LE brings more to the DAW
via ADAT lightpipe than ever before, allowing users to make the most of
often neglected ADAT inputs and outputs for tracking and monitoring. In
addition, the A/D-D/A option provides wordclock in and out as well as being
the only converter in its class to feature 256x clock — a must-have for Pro
Tools engineers.



Extremely easy to use, OctoPre LE helps to save session time and engineer
heartache. Auto Switching front and rear panel inputs and total control of
the digital I/O from the front fascia allow the unit to remain racked and
patched, with every I/O solution available at the flick of a switch. In
typical Focusrite fashion, the OctoPre LE upholds professional standards
throughout, boasting class-leading specifications:



Analogue:
THD: 0.003% with 0dBu input (maximum gain)
Wide bandwidth frequency response: 3 dB down at 200kHz
Signal to noise ratio of 124dB



Digital:
Dynamic range of 110 dB A-weighted



Housed in a sturdy 1U chassis with the familiar Platinum fascia, OctoPre LE
is the first of the Platinums to feature a 'porthole'-style peak-reading
meter, similar to Focusrite's industry standard Red range of products. The
meter can be switched to display the input level of any one of the eight
channels.



The two Super Channels feature DI for guitars or similar instruments, as
well as a low impedance switch for making the most of ribbon mics and
allowing deliberate mic mis-matching for enhanced creativity. Other features
include phantom power, independent clip metering and low cut filters on
every channel.



The OctoPre LE is available from January 2005 and will cost £349
inc. VAT, U.K. The optional A/D-D-A will cost £129 inc.VAT and
can be retrofitted at any time.