Digidesign is excited to announce that the Digidesign® VENUE live sound environment is now shipping. Digidesign VENUE is a purpose-built, modular live sound mixing and production environment. Basic VENUE systems start at $55,000 and expanded configurations come with up to $10,000 in TDM effects processing plug-ins for free.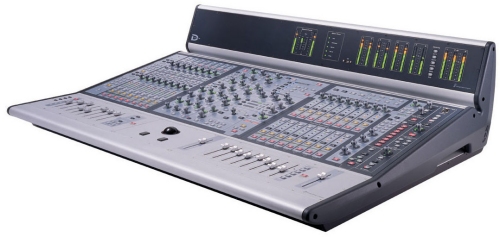 VENUE was specifically developed to meet the specialized requirements of modern sound reinforcement. Input was gathered from a wide variety of seasoned live sound professionals and VENUE was rigorously road tested on a variety of tours. Here is what some of them have to say about their experiences working with the VENUE system:



"VENUE is the missing link in the evolution from analog to digital live mixing consoles," states Dave Skaff, 25-year mixing engineer with Alicia Keys, Shania Twain, U2 and many others. "It has the sound and feel of your favorite analog console along with reliable digital control, ease of use, powerful plug-ins, and Pro Tools compatibility."



"Digidesign's VENUE pushes state-of-the-art technology to a new level with sonic superiority and plug-in options," states Michael Prowda, David Bowie's long-standing monitor engineer who is currently working with Nine Inch Nails.



"Mixing on VENUE has been the best mix experience in my 22-year career," exclaims Doug Nightwine, front of house engineer for Joe Satriani. "It sounds fat and punchy. Then there's the plug-ins…I mean, come on, game over!"



"I am amazed by the power and flexibility of VENUE," says Dave Haines, front of house engineer for the Black Eyed Peas. "I learned how to use the system in less than two hours and our show ran flawlessly and sounded great!"



VENUE was purpose-built from the ground up to service the stringent requirements of live sound reinforcement and broadcast applications. Multiple redundant subsystems ensure that audio continues to pass, even in the event of a system restart. Moreover, the operator retains complete control over channel faders and mutes during the unlikely event of a failure of the host computer — an industry first.



VENUE's D-Show console supports a myriad of professional DSP effects plug-ins, providing virtually unlimited possibilities for creative sound processing and original mixes. The live sound engineer can easily take advantage of the very same effects algorithms used in professional Digidesign Pro Tools® recording studios, bringing the sound of the studio to the concert hall. This significantly expands the operator's sonic palette while simultaneously eliminating reliance on outboard gear and the potential for hum, buzz, and noise that such gear often introduces.



VENUE is the only live sound mixing environment to feature an optional direct digital link to industry-standard Digidesign Pro Tools systems — without requiring separate converters or digital I/O peripherals. This enables operators to seamlessly integrate a separate Pro Tools workstation with the D-Show console to record a show or augment a live performance with Pro Tools playback. VENUE also supports offline configuration, maximizing productivity by enabling operators to prep a system on a laptop computer prior to a show, and then simply upload the data to D-Show's embedded computer upon arrival.