Moog Music is now shipping a groundbreaking new analog effects module designed by Bob Moog. The latest release in the distinguished line of Moogerfoogers offers a quiet reflective sound like no other. The Moogerfooger family is proud to introduce its most modest member.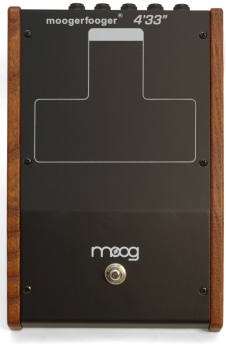 Mike Adams, President of Moog, states, "This is our newest and most subtle Moogerfooger to date. Its silence will blow you away." The 4'33" builds on existing Moogerfooger technology and will challenge musicians like never before! This is the perfect product for the musician who is looking for a clean, non-threatening sound. Whether you wish to leave an audience waiting in anticipation or begging for more, the 4'33" will silence the crowd!



The 4'33" is the result of years of research and development to create a sound more unique than anything currently on the market. Bob Moog believes this could be his most popular Moogerfooger ever and states, "This will let musicians out of their cage." Steve Dunnington, Moog Product Manager, says "Audio Engineers will really appreciate the 4'33" when applied to obnoxious guitar solos."



Once again, Moog delivers an unbelievable product! The 4'33" is a limited edition model; retailing for $433.00 and will only be available April 1st.
One last note about the amazing Moogerfooger 4'33" – April Fools.