Arturia and Ircam (Institute for Music/Acoustic Research and Coordination) announce the release of BRASS. This software recreation of three wind instruments – a trumpet, a saxophone and a trumbone is based on physical models. All the characteristics of the real instruments have been analysed and modelled through mathematical algorithms.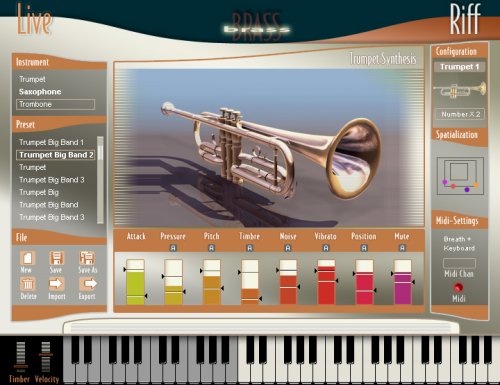 After five years of research at Ircam, the models have reached a point where, we think, it would be hard for anyone to distinguish the original instruments from their software counterparts. Indeed, BRASS allows to play these instruments like experienced performers would do – with the same control, the same flexibility and the same expression.



Frédéric BRUN, President of Arturia says: "Arturia is extremely proud to be associated with IRCAM. The tradition of innovation and excellence set-up by IRCAM was extremely challenging for Arturia. Such products as Max or Audiosculpt are certainly among the most powerful music software ever made.



Two years ago, when we heard the physical models developed by the Departments of Analysis-
Synthesis and Instrumental Acoustics we thought they were amazing. To date, no technology of this magnitude and quality have been offered to musicians and we immediately thought it was a very good ground to build a cutting-edge product.



So on our side, we have done our best to bring to the table other aspects that musicians do care about: great user experience, fast learning curve, attractive interface…
We think BRASS reflects all these qualities and will allow musicians to focus on creation."



Bernard STIEGLER, Director of IRCAM states: "Physical models have been developed at IRCAM for more than 20 years and some of them are used by musicians in our software Modalys. But only a talented and experimented company like Arturia managed to bring this technology in an incredibly easy and smart form. This has been a wonderful experience for all the researchers involved in the project, with strong enthusiasm".