It's time for the Gearjunkies Messe 2005 Roundup! We are back, gave all the gear a place, and ready for our take on what is going on in the Gear industry at this time and day! After some tossing, we came up with, what we thought, was the most cool and innovative new products at the 2005 show.
When it comes to new synths, there wasn't actually a lot of BIG news, except when you consider big as in large, big, heavy! For the first time, we were face to face, or better said, hands to keys with the new Korg Oasys. Until someone from Korg stopped us and explained that we needed a session to actually understand the power of the Oasys before we were allowed to touch it. Hmm…

More actual new hardware synth stuff was coming from Creamware with their Minimax, and Clavia with their Nord Stage performance synth. The Clavia Nord Stage is a synth that is focussed on doing stage things really good, and we liked it, but it is not the synth that makes you go dizzy. The new Roland V-Synth XT, as a racked-up V-Synth, isn't either. We did get warm for Dave Smith's Poly Evolver. Sounding extremely raw, in your face, wow…!
But what we liked best was even more hardcore, and that is the Mac Beth Studio Systems M5. This new modular synth is really cool, also because the need for actually patching the modules with cables has changed to a innovative pre-patched system. Check it out. We give it our Gearjunkies Synth Thumbs Up!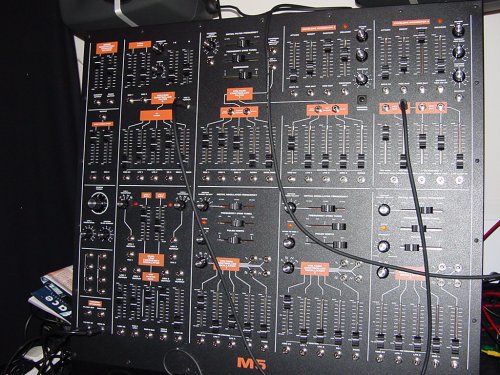 Lots of new products were on show in the DJ section of the MusikMesse. New mixers from Ecler (Nuo4, a stripped down Nuo5, but with the MIDI sync), Numark (the EFX5000 with extended effects), Vestax (a R1 follow up rack mixer), and for the first time ever, Mackie. Still a prototype, the Mackie d:2 mixer looks great, and is built with quality in mind. We are impressed!

Apart from new mixers, there was the complete new style makeover from Stanton, presenting us with their new line of turntables and CD players. Definately cool! And Vestax is going funky with their STC-V1 vinyl controller based on TTM technology. Another thing that was amazing, was the fact that there was no new limited edition of the SL1200! More than that: the whole Technics booth was taken by their SLDZ cd player! What are they trying to tell us? :))

Serious now, more present than ever is the crossover between DJ's and PC's. For example Behringer is showing a DJ controller for a software DJ solution. But on the other side of the quality spectrum we see Allen&Heath also working on integrating hardware in software. Still a prototype, the Xone:3D impressed us that much, that we award it our DJ category winner!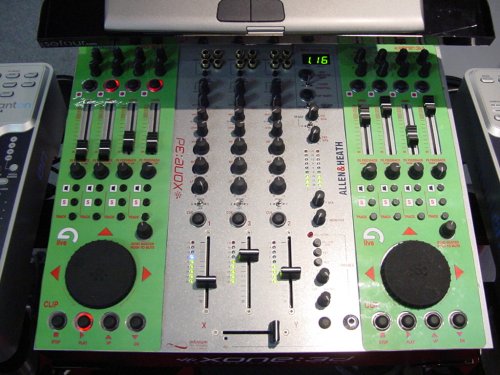 Then for Studio/Pro Audio news. This is where big things are coming from Mackie, that introduces a brand new line of entry level mixers for their Tapco brand. Full featured with USB connections and reasonably priced. If only you like the yellow color…
Then there was the announcement of the new DynAudio BM5P monitors. What can we say about that, except that even without hearing, we are really curious how DynAudio further improved their monitor speaker range. But for Studio news that we say is cool enough for our Studio/Pro Audio category winner, we say Pro Tools M-Powered. Bringing ProTools high end studio quality to the masses.
Most gear related innovation at this moment is in the cross over between software and hardware. In our MIDI category we found some new products on the Messe, like the new line of E-MU masterkeyboards. Still, our heartrate started to go up from the SmartAV console. We know, this is totally beyond reach of mere gear lusting mortals, but seeing is believing: these guys have created something that we think is totally usefull and looks amazing! We award it with the MIDI category winner status!
Next stop: Soundcards. We tried hard, but couldn't find soundcards that were special. Only updates (Powercore PCImk2) or new firewire audio interfaces (Terratec Phase X24FW), we await the next Messe for cooler stuff to happen.

On the software side of things, lots of things happened though! Still, the effort here results in more and more updates for current products. Native Instruments updates almost their entire productline and adds more software for the guitar-minded. Steinberg does some ASIO 2 polishing up by releasing a 2.1. version of the standard. Spectrasonix updates their cool Stylus RMX software. And I can keep going on and on here! Remarkable developments are also worth mentioning though. Mackie's Tracktion is now upto version 2, telling the world they are serious with their software. Also, the spirit of former Waldorf has found its way into Terratecs Komplexer VST-i plugin. Cool! And after the synth modelling side of things, Arturia is completing their Brass softsynth, physically modelling another kind of instrument and making it available for the electronic musician. Again, nice!

Picking a winner here is difficult, Reaktor was cool, and is even cooler with the version 5 specifications. Same goes for Stylus RMX. But in respect to the end of the Waldorf name, we would like to "keep the soul alive" by naming Terratec Komplexer as the winner of the Software category!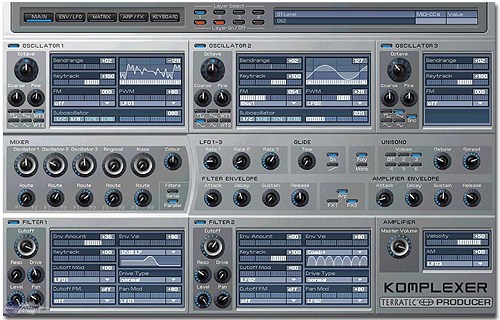 And there it is! Check out the pictures we took, because there are real beauties with it!
Cheers!
Gearjunkies