Tascams new X-48 is the world's first 48-track hybrid hard disk workstation, offering the best of both worlds: the stability and ease-of-use of a stand-alone hard disk recorder with the GUI, editing features and plug-in compatibility of computer-based digital audio workstations.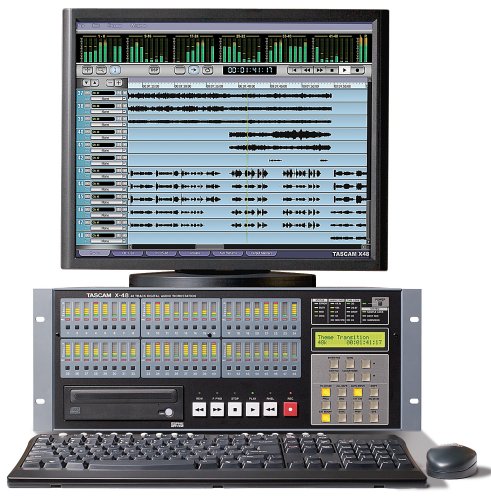 The X-48 boasts 96kHz/24-bit recording across all 48 tracks and 192kHz recording across 24 tracks. Its file interoperability and synchronization surpass even the TEC award-winning MX-2424, making it the ultimate multitrack solution for high-quality music, post and live recording applications. Yet it goes beyond mere stand-alone recorders – its built-in automated 48-channel digital mixer, VGA display output, powerful editing functions and DVD+RW backup transform the X-48 into a complete standalone workstation.
"Configuring a professional computer-based DAW of this capability could cost over $20,000 and would require more than a dozen components to install and troubleshoot," says Jim Bailey, Product Manager for Tascam. "We have created a turn-key multitrack workstation with peerless audio quality and a state-of-the-art feature set while retaining the interoperability and reliability of our acclaimed MX-2424. The Broadcast WAVE file format and OMFi import and export are compatible with workstations such as Pro Tools, and the built-in DVD+RW drive, support for FireWire hard drives and Gigabit Ethernet make it simple to transfer tracks between systems. But it's the built-in digital mixing, plug-in support and graphic user interface that make this a unique solution for users who need either a multitrack recorder or an all-in-one workstation."
The Tascam X-48 has a manufacturer's suggested retail price of $4,999 and will be available in the Summer of 2005.