BOSS is proud to announce the BR-1200CD
Studio is now shipping. From guitar pick to compact disc, the BR-1200CD can turn ideas into pro-quality songs with power and ease. Packed with great COSM effects and amp models derived from BOSS's GT-6-series multi-effects processors, plus a great-sounding bass and drum programmer for instant backing tracks, the BR-1200CD is the friendliest and most comprehensive 12-tracker on the market.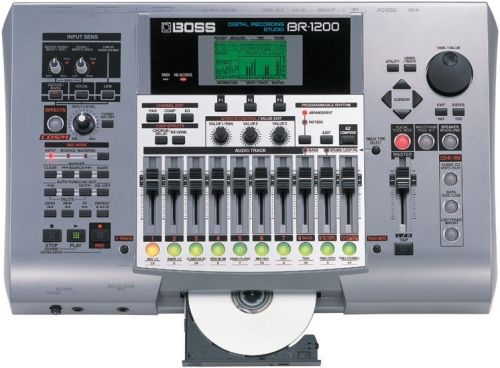 Give tracks a full dunk or subtle touch-up with the BR-1200CD's powerful multi-effects processor. A lineup of COSM amp models are built in, including the world famous Roland JC-120 Jazz Chorus™, plus models of popular BOSS Compact Pedals such as the OD-1 and MT-2. Also onboard are COSM Mic Models, which emulate expensive condenser mics. Pitch can be corrected and harmornies can be added with the Vocal Tool Box. For the finishing touch, the Mastering Tool Kit can put a pro-quality polish on the mix.
Another distinguishing feature of the BR-1200CD is its onboard bass and
drum programmer, complete with world-class instruments and patterns to suit a variety of styles. Realistic acoustic drum and percussion instruments are included, as well as electronic sounds for composing modern music. A variety of bass sounds are also supplied, such as slapped, picked, and fretless. Jam along with the supplied patterns or create tracks from scratch. The EZ Compose feature makes ultra-realistic custom programming a snap. There's also a selection of great loop phrases pre-installed on the internal hard drive.
The BR-1200CD has a USB port for simple, one-cable data exchange with a
computer. Audio tracks can be imported/exported in WAV format, and songs can be safely backed up externally. The BR-1200CD is compatible with both PC and Mac, including Mac OS X.
Fly from point A to B in record time, thanks to the BR-1200CD's inviting, icon-based user interface. Recording, mixing, and CD burning is simple, and the results will rival recorders at twice the price.