Finally the information we wanted. Ecler has released the long awaited NUO-4 this week. The NUO4 comes to complete a product series known for its sound quality and innovative features. This revolutionary 4 channel mixer featuring control of external devices via MIDI, allows deejays to play software live in a natural and intuitive manner. This remote controller features 72 different MIDI messages, which can be fully programmed to our choice and customized later on with an innovative label print system.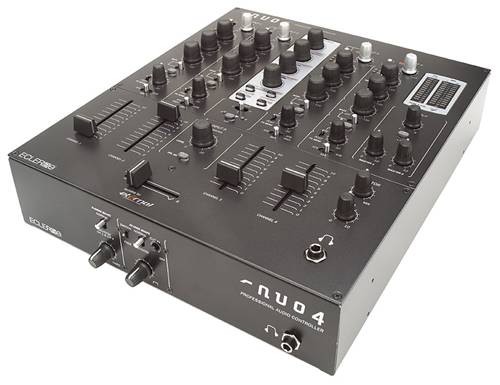 The NUO4 concentrates to control of a computer in a traditional mixer and so allows laptops to coexist at deejay booths with turntables and CD decks, so bringing deejays an open window to the future of live music mixing and production.


Specifications:
# 4+1 stereo channels
# Balanced output
# 2 master levels for booth monitoring
# Extra large ergonomic EQ knobs
# Bass Off switches
# FX send in pre and post fader mode
# Fully assignable crossfader
# Fader and crossfader shape adjustments
# Reverse and cut-in-time for scratch performance
# 72 MIDI control messages with the combination of 4 rotary and push knobs, 4 switches, a 3 position layout and an A/B bank selector. All controls can be assigned to the functions of your choice.
# Magnetic flexible labelling system that allows you to personalize your mixer and control settings
# Software Control 4 Lab included for programming MIDI controls
# USB and MIDI ports
# Suitable for the Eternal magnetic crossfader
For more information please visit the Ecler website.