At the Summer NAMM M-Audio presented their new ProKeys 88 premium stage piano, delivering piano and other instrument sounds, hammer-action keyboard with MIDI controller functionality, sostenuto pedal input and aggressive price point.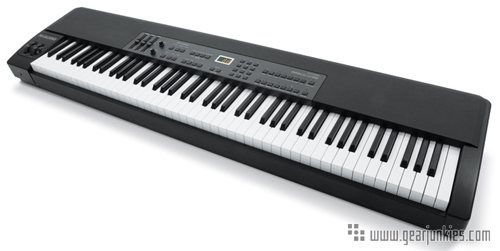 The primary mandate in designing the ProKeys 88 piano was creating an over-the-top piano experience combined with affordability. Most digital stage pianos cram all their sounds–sometimes 128 or more–into as little as 16MB of ROM. M-Audio chose to design the ProKeys 88 with a generous 64MB to do much better justice to 14 sounds that are the bread and butter for many keyboardists. The premium stereo grand piano samples of a Yamaha C7 alone are 30MB–more than some units' total memory for all sounds. And where most digital stage pianos use only one or two samples per note to respond to a full range of touch, the ProKeys 88 stereo grand employs three velocity layers with cross-fading for dynamic response.
The ProKeys 88 also delivers all the staple keyboard sounds needed by many musicians. Its flagship stereo grand is supplemented by a brighter grand, designed to really cut through in popular music. The ProKeys 88 has electric pianos covered too, including both bright and warm classic Yamaha DX7s, a sweet Fender Rhodes and a vintage Wurlitzer. Users also get two Hammond B3 settings and one Hohner Clavinet. Acoustic and electric basses provide the option of layering a ride cymbal for jazz tunes. Vibes, ensemble strings and an inspiring warm, lush synth pad round out a great sonic palette for the gigging keyboardist.
The ProKeys 88 piano's full-range 88-key clavier features weighted hammer action to deliver an authentic playing experience in conjunction with 64-voice polyphony. It features three velocity curves tailored to different touches, as well as a fixed velocity for synth work. The keyboard also features split and layer capabilities and users can even have a split and layer simultaneously for a total of three sounds at once. Dedicated volume sliders are provided for master, layer and split components. Adding to the ProKeys 88 piano's playability and realism is a sostenuto pedal that complements the standard sustain pedal.
Where most digital stage pianos offer little more in the way of external communication than a MIDI jack, the ProKeys 88 incorporates a full USB MIDI interface that communicates with a PC or Mac computer via a single, simple USB connection–perfect for recording with virtually all MIDI sequencer software on the market. (The instrument features class compliancy with Windows XP and Mac OS X platforms without installation of additional drivers.) Users can even control their sequencers remotely via front-panel Start, Stop and Tempo buttons. MIDI In and Out jacks allow full communication with all standard MIDI gear as well. The ProKeys 88 is also General MIDI-compliant.
The ProKeys 88 also features performance controls that are rare on digital stage pianos, including pitch wheel, modulation wheel, two footswitch inputs, and expression pedal input. The three different ranges available via the ProKeys 88 piano's combined split and layer functions can each transmit on a separate MIDI channel as well. The unit also includes dedicated front-panel buttons for program change, channel, bank MSB, bank LSB and local on/off.
The ProKeys 88 has on-board effects: 2-stage EQ, three different reverb spaces, chorus and tremolo. Stereo 1/4″ unbalanced jacks deliver a pristine signal derived from our best audio technology, featuring a dynamic range of 103dB. A stereo headphone amp with 1/4″ connection is also provided.
The user interface of the ProKeys 88 features dedicated buttons for the 14 instruments, plus a button to add a ride cymbal to the acoustic and electric basses when in split mode. There's also a dedicated button that cancels any splits and/or layers and returns the user to the stereo grand piano sound. There's also a 12-key data entry pad in conjunction with a 3-digit LED display for edits.
The ProKeys 88 is expected to ship in July 2005 an MSRP of $749.95 (euro 625).