M-Audio has released the new MicroTrack 24/96 digital recorder. Only about the size and weight of a deck of cards, the MicroTrack 24/96 digital recorder is a mobile 2-channel digital recorder that records WAV and MP3 files to CompactFlash media or microdrives.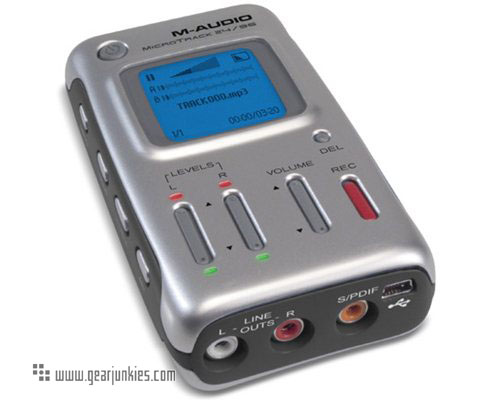 Despite its small size the MicroTrack 24/96 delivers the same quality as M-Audio's audio interfaces, up to 24-bit/96kHz PCM. The unit can record via balanced 1/4″ line inputs or built-in microphone preamps complete with 48V phantom power for studio-quality microphones. Balanced 1/4″ TRS line inputs also make it easy to take a feed directly from a studio or club mixer. S/PDIF input provides for recording the output of digital mixers and doing transfers from other digital recording/storage devices. Monitoring is provided via the 1/8″ stereo headphone jack or RCA line outs.
One of the secrets to the MicroTrack 24/96 digital recorder's compact size is that, like many of today's digital cameras, it records to CompactFlash or microdrives. Recording capacity is based on the format selected and the size of the currently inserted media. A 1GB CompactFlash card or microdrive, for example, will hold approximately 100 minutes of uncompressed CD-quality 16-bit stereo 44.1kHz WAV files. That same 1GB media will store 1500 minutes of stereo speech-quality MP3 audio at 96kbps. Users can deploy and swap out whatever capacity media suits their needs.
The MicroTrack 24/96 can record as many unique files as the capacity of the available storage allows. When connected to a PC or Mac computer, the MicroTrack 24/96 appears as a USB mass storage device showing the unique identification number of each file. Just drag and drop the files to the computer's hard drive and the audio files are ready to edit and/or post to the Web. The included Audacity software provides easy editing and format conversion of files if desired.
MicroTrack 24/96 is powered via long-life lithium-ion batteries that provide for approximately eight hours on a single charge (or about three hours with phantom power engaged). The battery recharges by simply connecting MicroTrack 24/96 to a PC or Mac via USB, or using an optional power supply.
The MicroTrack 24/96 is expected to ship this month and carries an MSRP of $499.95(euro 415).