Numark, the name synonymous with innovation in professional DJ equipment, proudly announces the HDCD1, a rack-mountable, dual CD player with built-in hard drive. The first music playback system of its kind developed specifically for the professional DJ, the HDCD1 can store an entire DJ collection for the ultimate in portability, organization, and convenience. MP3s and uncompressed audio files can be ripped from either of the built-in CD players, transferred from computer via USB, and even recorded from turntables and other sources through the units analog line inputs.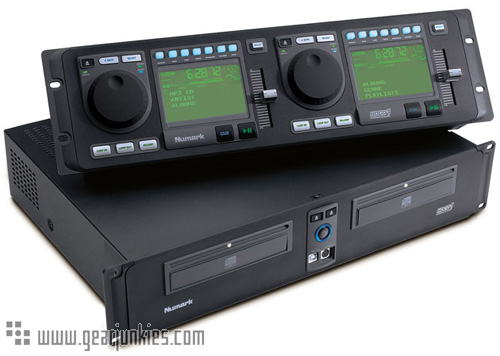 With an 80 GB internal hard drive, the new HDCD1 can store a tremendous amount of music—particularly if those files are in the popular MP3 format. The HDCD1 features dual jumbo displays with dedicated controls, making system navigation and file search quick and simple. There is an onboard CDDB database for instant recognition of song title, artist, and genre when using commercial CDs. The HDCD1 even includes a standard PC-style keyboard that facilitates easy searches. Songs and playlists can be searched by title, artist, album, or genre. Additionally, the HDCD1's included software enables upload and back-up download of music files, song and playlist data editing, plus the ability to export song lists as text.
As a professional CD player, the HDCD1 excels. This outstanding music playback system features dual CD transports and can operate as a standalone professional dual CD player—featuring full compatibility with CD, CD-R/CD-RW, and Data (MP3) disc formats.
With a suggested retail price of $2,199(euro 1850), Numark's new HDCD1 Dual CD Player with Hard Drive re-defines the term state-of-the-art in music playback systems developed for the DJ market. The HDCD1 Dual CD Player with Hard Drive will be available Q2 of 2005.
Furthermore Numark have introduced the 200FX MKII Rackmount DJ Mixer. Building upon the success of the original 200FX, this upgraded model continues its 19-inch rackmount form factor offering four channels of high-quality analog mixing, and improves upon its integrated signal processing capabilities with the introduction of a Karaoke vocal cancellation function along with improved signal to noise performance in all its onboard effects. Featuring digital reverbs and additional effects from Alesis, the 200FX MKII offers five microphone inputs and makes an exceptional choice for use among mobile DJs, small club or bar installations, and karaoke customers.
First and foremost among its upgraded capabilities is the introduction of the new Karaoke vocal cancellation feature. This new addition to an already impressive effects section reduces vocals on many standard recordings, enabling others to sing over the backing instrumental tracks—making the 200FX MKII a terrific choice for use in Karaoke environments.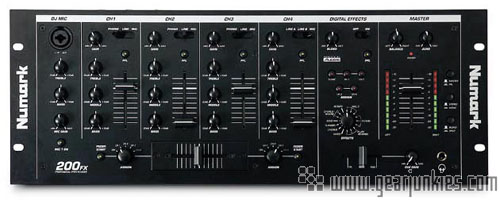 The 200FX MKII Rackmount DJ Mixer incorporates sixteen professional digital effect algorithms derived from the world-class effects catalog of Alesis. Particularly well suited for use with vocals, these include hall, room, plate, and gated reverbs— enabling the simulation of virtually any ambiance. Additional effects include chorus, flanger, echo, chorus/reverb, and rotary effects, with provisions for adjusting the wet/dry mix. Of particular significance with the new 200FX MKII, all these effects now feature improved signal to noise performance for breathtaking, pristine signal clarity.
Configured with four channels plus DJ mic control, the 200FX MKII includes five microphone, five line, and three phono inputs. Each channel includes steep 3-band EQ for contouring that channel's audio signal to one's liking. The 200FX MKII has balanced XLR master outputs plus record and zone outputs. Both split and blend cueing are available, as well as PFL gain adjustment and panning on the master fader. The 200FX MKII provides fader start capability and its crossfader is both replaceable and assignable.
With a suggested retail price of $429 (euro 360), Numark's 200FX MKII Rackmount DJ Mixer is an exciting new tool with a slant toward Karaoke. The 200FX MKII is now shipping.