MindPrint launches TRIO USB recording solution. TRIO USB combines all essential outboard components for project studios in just one box – including a high quality audio interface. TRIO USB expands the scope of the innovative TRIO recording and monitoring solution introduced at Winter NAMM. It offers the same channel strip with true analog EQ and Compressor, essential mixing, AUX and DAW inputs and comprehensive monitoring features as found on the original TRIO, but adds USB audio instead of the S/PDIF interface.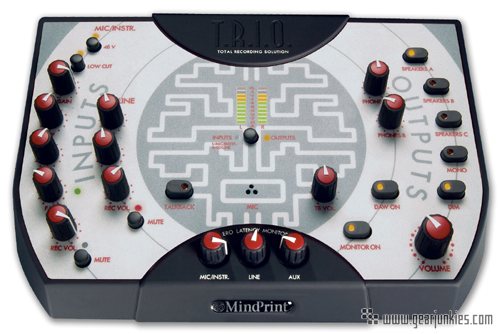 TRIO's channel strip section provides a high quality instrument- and Class A microphone-input with phantom power and 10 kOhms impedance for optimal sounding results. The analog EQ's "vintage" design makes it easy to record great sounding vocals and instruments. The Compressor's unique Adaptive Response mode is taken directly from MindPrint's high-end DTC Dual Tube Channel Strip and delivers superior results, requiring just one knob!
TRIO USB includes all essential mixing features required in a typical recording setup: Mic./Instrument, Stereo Line, Stereo AUX and DAW return channels may all be used simultaneously. The built-in channel strip delivers professional sound instantly and may be recorded simultaneously with the stereo LINE channel's signal. The dual headphone amp has separate volume controls, and the latency-free monitoring mixer's dedicated controls ensure direct access.
KEY FEATURES:
– 1 Mic/Instrument input (Class A, Phantom Power)
– 3 stereo line inputs (Line with 2 band EQ, Aux, DAW)
– Channel strip with low cut filter, 2 band EQ and compressor
– Analog insert
– 10-segment LED meters
– Zero Latency monitor mixer
– 3 switchable speaker outputs
– 2 separate headphone amps
– Talkback Function, MONO / DIM
– Dedicated Monitor Volume knob
– USB 2.0 compatible audio interface
– ASIO drivers for Mac OS X and Windows XP
– 24bit/96kHz max. digital resolution
– Dedicated hardware knobs: 18 rotary, 15 switches
– Power supply via included mains adaptor
TRIO USB will be available in September 2005. Manufacturer's Suggested Retail Price: US $ 549 / UK £ 329 / EUR € 449. For more info on Trio USB, check out our product page (link below).